New Brunswick, N.J., April 1, 2023 –  Every time we eat or drink, our esophagus, an 8-inch muscular tube, plays a critical role in transporting food from our throats down to our stomachs for digestion. Cancer of the esophagus occurs when cancer cells begin to grow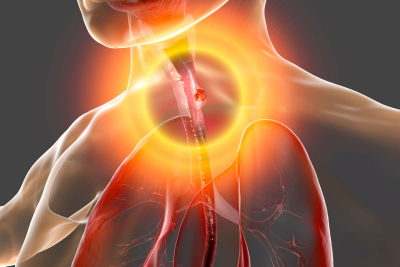 within the lining of the esophagus. Understanding more about this disease can help reduce your risk of esophageal cancer and enable you to identify it early. Brett L. Ecker, MD, surgical oncologist in the Gastrointestinal Oncology Program at Rutgers Cancer Institute of New Jersey and surgical oncologist at Cooperman Barnabas Medical Center, an RWJBarnabas Health facility, shares some facts:

1)    Esophageal cancer is relatively rare, making up about 1 percent of all cancers diagnosed in the United States
2)    Esophageal cancer is more common among men than among women. According to the American Cancer Society, men experience a lifetime risk of esophageal cancer at about 1 in 125 compared to about 1 in 417 in women
3)    It is the seventh leading cause of cancer death in men
4)    There are two types of esophageal cancer:  adenocarcinoma or squamous cell carcinoma. Adenocarcinoma starts in gland cells at the bottom of the esophagus and squamous cell carcinoma arises from squamous cells that are primarily in the upper esophagus
5)    Adenocarcinoma is the most common type of esophageal cancer. Chronic acid reflux, gastroesophageal reflux disease (GERD), Barrett's esophagus and chronic heartburn can increase your risk of developing adenocarcinoma esophageal cancer
6)    Squamous cell tumors are associated with heavy alcohol consumption, smoking and organ transplants
7)    Esophageal cancer is most common in Caucasian people. Adenocarcinoma is the most common type of cancer of the esophagus among whites, while squamous cell carcinoma is more common in Blacks. American Indian/Alaska Natives and Hispanics have lower rates of esophageal cancer, followed by Asians/Pacific Islanders
8)    People between the ages of 45 and 70 have the highest risk of esophageal cancer
9)    Using any form of tobacco raises the risk of esophageal cancer. This includes cigarettes, cigars, pipes and chewing tobacco
10)    Researchers continue to investigate new methods to treat esophageal cancer. Some tumors are very responsive to chemotherapy and radiation therapy, and in certain instances, patients will not require surgical resection. Ongoing clinical trials at Rutgers Cancer Institute are exploring the use of chemoradiation coupled with immunotherapy to improve survival. Another exciting area of research involves the use of cell-free DNA (small fragments of tumor DNA detected in the blood) after surgical resection to help guide further treatment
For more on the information above/ additional resources, visit: https://cinj.org/education/esophageal-cancer 
Rutgers Cancer Institute together with RWJBarnabas Health, the state's leading cancer program and only NCI-designated Comprehensive Cancer Center, offers the newest and most effective practices for diagnosing and treating pre-cancerous and cancerous conditions involving the esophagus, stomach, small intestine, colon, rectum, pancreas, retroperitoneum, and other intra-abdominal organs.