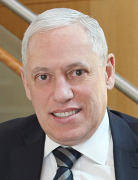 Wadih Arap, MD, PhD
Director, Cancer Institute of New Jersey at University Hospital
Chief, Division of Hematology/Oncology
Rutgers New Jersey Medical School
Medical Oncology
I am excited to join Rutgers Cancer Institute of New Jersey and serve as the Director of Rutgers Cancer Institute of New Jersey at University Hospital and Chief of Hematology/Oncology.  In this role I lead the clinical faculty and provide oversight and direction for the Newark location of New Jersey's only NCI-designated Comprehensive Cancer Center bringing innovative cancer care and services to the Greater Newark region. 
My clinical expertise is in the area of genitourinary (GU) cancers with a specialty in prostate cancer.  Through an individualized treatment plan, I provide my patients with the most advanced and compassionate care including access to clinical trials. 
I received my medical degree from the University of São Paulo Medical School in Brazil and completed my Residency in Internal Medicine at the São Paulo Medical School University Hospital and Clinical Fellowship in Medical Oncology and Hematology at Memorial Sloan-Kettering Cancer Center. These experiences led me to pursue a doctoral degree at Stanford University and the Ludwig Institute for Cancer Research in translational medicine. Following my studies, I joined The Sanford Burnham Prebys Medical Discovery Institute in 1997 and the faculty at The University of Texas, M.D. Anderson Cancer Center, Department of Genitourinary Medical Oncology in 1999. 
As a physician-scientist, my laboratory-based research focuses on the rapid translation of discoveries into clinical applications. Renata Pasqualini, PhD and I have co-directed a joint laboratory team since October 1999 starting at The University of Texas, M.D. Anderson Cancer Center, the University of New Mexico Comprehensive Cancer Center, and currently at Rutgers Cancer Institute of New Jersey at University Hospital. Our research program is based on the scientific premise that differential protein expression in disease tissues enables development of novel, targeted drugs to treat human disease. By integrating genomic analyses and analytical high-throughput technology, functional protein-protein interactions can be manipulated to develop clinical strategies for effective disease management. This technology is the core of our research and drug development programs and the reasoning behind evolving disease-specific receptor discovery to develop transformative mechanistic and translational applications. Our targeting technologies have led to the design and engineering of targeted therapeutic drug candidates to treat disease in patients. 
I served on the National Cancer Institute's Board of Scientific Counselors, several review boards for the National Institutes of Health and the U.S. Department of Defense's Prostate and Breast Cancer Research Program in addition to several international funding agencies. I am also an ad hoc reviewer for journals such as: American Journal of Pathology, Blood, Cancer Cell, Cancer Research, EMBO Molecular Medicine, Journal of Biological Chemistry, Journal of Clinical Investigation, Nature Biotechnology, Nature Medicine, Nature Protocols, Proceedings of the National Academy of Sciences and Science.
Rutgers Cancer Institute has a rich history of conducting innovative and groundbreaking cancer research, and together with RWJBarnabas Health, they offer unparalleled knowledge, clinical care and resources for cancer patients and their families. I feel privileged to work alongside the multitude of expert cancer providers and compassionate staff with an overarching mission of delivering outstanding cancer care to achieve the best outcomes for our patients in New Jersey and beyond. My vision for the Rutgers Cancer Institute of New Jersey at University Hospital is to achieve the best patient outcomes in New Jersey by building a team of research scientists and physicians who can quickly mobilize innovative translational therapies from the bench to bedside.
Dr. Arap sees patients at Rutgers Cancer Institute of New Jersey at University Hospital in Newark.
Clinical Expertise
Prostate cancer and clinical trials
Honors
Angel Works Award, 2000
The Gillson-Longenbaugh Foundation Award, 2000 - 2019
The V Foundation Award on Translational Cancer Research, 2001
The Randall-Downey Foundation Award, 2002
Golfers Against Cancer Foundation Award, 2003
Marcus Foundation Award, 2006
Fellows of the MD Anderson Research Trust Award, 2006
The 2006 Robert M. Chamberlain Distinguished Mentor Award Nominee, 2006
Edith and Peter O'Donnell Award, The Academy of Medicine, Engineering and Science of Texas, 2010
Dr. Ronaldo Ribeiro Memorial Lecture and Prize, 20th Brazilian Society of Clinical Oncology, Rio de Janeiro, Brazil, 2017
Contact Information
For appointments at Rutgers Cancer Institute of New Jersey at University Hospital, please call 973-972-5108.
For all other inquiries call 732-235-2465.