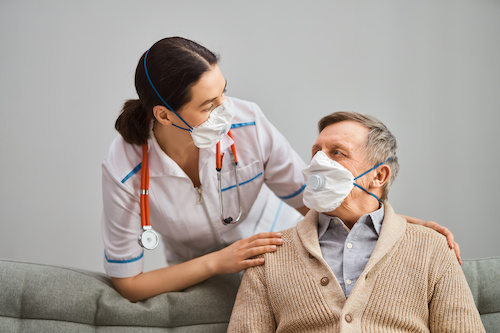 New Brunswick, N.J., May 10, 2021 – Oncology nursing is a unique specialty that requires specific knowledge of the biological and psychosocial dimensions of cancer and its effects on individuals and families. Rutgers Cancer Institute of New Jersey in partnership with RWJBarnabas health is the state's only National Cancer Institute -designated Comprehensive Cancer Center. Part of this distinction is the ability of cancer care teams, including oncology nurses, to provide the most advanced treatment options to patients. This often requires specialized knowledge, skills and continuing education in oncology for our providers.
Sri Kota, MSN, BA, RN, OCN, nurse clinician in the Stacy Goldstein Breast Cancer Center at Rutgers Cancer Institute, has been working to prepare and coach registered nurses to become certified in oncology nursing, which translates to an enhanced level of care for cancer patients. She shares insight on the role of the oncology nurse and importance of this certification.
How would you describe what it is like to be an oncology nurse?
Oncology nursing is a calling and a privilege. Cancer is certainly one of the most dreaded words in the human vocabulary and when someone is diagnosed with the disease, their world is turned upside down. This is a time of vulnerability, anxiety, unbelievable stress, confusion and uncertainty. Oncology nurses, whether they are in surgical, inpatient, outpatient, clinics, radiation, or palliative care settings, all have tremendous impact on alleviating the stress of the patient and helping them along their journey. Oncology nursing is a "forever" specialty.We follow patients from the very beginning through varied forms of treatment – with –the goal being cure or pain relief. We are part of that journey forever. We form unique bonds with our patients and their families, and it is immensely gratifying to be an oncology nurse.
Tell us about the certification to be an oncology certified nurse (OCN). What does that mean for cancer patients?
Oncology nursing is complicated, challenging, and continually evolving. The certification is a nationally recognized accomplishment that signifies knowledge and competency in cancer nursing. Nurses must first gain experience and education in oncology to be eligible to take the OCN certification. The test itself is hard, with a broad range of topics in all aspects of oncology. OCN-certified nurses have proven their knowledge of cancer care and are committed to the cause with required continuing education every four years. The certification is also a mark of excellence and an accomplishment. For patients, this means that their OCN-certified nurses are extremely capable and will be providing competent and evidence-based cancer care. They have gone the extra mile in proving their commitment to oncology nursing and the patients that they care for.
This level of certification is a hallmark for NCI-designated Comprehensive Cancer Centers like Rutgers Cancer Institute. It complements other aspects of nursing education that our clinicians take part in, including serving as mentors and preceptors who use evidence-based practice to teach other nurses throughout the RWJBarnabas Health oncology service line and elsewhere throughout the state.
This year's theme for Oncology Nursing Month is "Inspiring Innovation. Inspiring Care." What does this mean to you?
The theme for me is special and to say that I have been supported is an understatement. What do we collectively want to accomplish, what do we need, who will be part of the team, how do we make it happen? The cycle of innovation and inspiration is an absolute necessity to keep reinventing patient care, caregiver satisfaction and to improve outcomes.
 
Learn more about nursing at Rutgers Cancer Institute of New Jersey.
 
For journalists – contact:
Krista Didzbalis 
Media Relations Assistant 
908-812-6114
krista.didzbalis@rutgers.edu
For patient appointments/inquiries – contact:
844-CANCERNJ (844-226-2376)