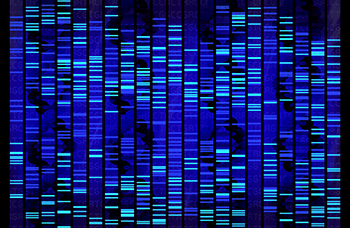 New Brunswick, N.J. – Predicting how patients will respond to anti-cancer therapies can be vital in informing clinical decisions and improving treatment outcome.  Researchers at Rutgers Cancer Institute of New Jersey examined an association between mutational burden and response to immune checkpoint therapy in several cancer types and found that a mutational burden threshold exists in eight cancers that predict response to an immune checkpoint blockade.
The work's co-corresponding authors Shridar Ganesan, MD, PhD, associate director for translational science and chief of molecular oncology at Rutgers Cancer Institute, the Omar Boraie Chair in Genomic Science, and  associate professor of medicine and pharmacology at Rutgers Robert Wood Johnson Medical School; and  Rutgers Cancer Institute research member Gyan Bhanot, PhD, professor of molecular molecular biology and biochemistry and professor of physics in the School of Arts and Sciences at Rutgers University, along with lead author Anshuman Panda, MPhil, a Rutgers Physics Department graduate student, share more about the work, published in the December 7 online edition of JCO Precision Oncology (DOI: 10.1200/PO.17.00146).
Q:  Why is this topic important to explore?
A:  Immune checkpoint blockade therapies have recently been in the news as novel ways to target a variety of cancers. However, these therapies are very expensive and have significant side effects. Furthermore, not all patients respond to such therapy. It is therefore important to identify markers of response for these therapies in relation to the various cancer types to improve treatment efficacy.
Q:  Describe the research and your findings.
A:  We analyzed mutation and gene expression data for more than 9,000 tumor samples from 33 solid tumor types using data from The Cancer Genome Atlas (TCGA) to test whether a high mutational burden is associated with a signature of a blocked immune response. We found that such a mutational burden threshold, which we call the iCAM threshold, exists in eight solid tumors, namely melanoma, lung, colon, stomach adenocarcinoma, endometrial, bladder-urothelial and cervical cancer, and ER+HER2− breast cancer. The efficacy of this threshold in predicting response to anti-immune checkpoint blockade therapy was validated in published data for melanoma, colon and lung adenocarcinoma as well as in a large prospective cohort of 113 samples from Rutgers Cancer Institute and the Vanderbilt Ingram Cancer Center. We also showed that the iCAM threshold is identifiable with high accuracy using routine sequencing assays, such as the FoundationOne and StrandAdvantage assays. Finally, we find that iCAM+ and iCAM- tumors have very distinct mutational profiles, suggesting these are distinct diseases driven by different biological pathways.
Q:  What are the implications for future treatments with checkpoint therapy drugs?
A: The iCAM threshold provides a simple, cost-effective way to identify patients likely to respond to immune checkpoint therapy in eight cancer types using routine sequencing assays currently used in clinical practice.  
Information on research support and other information can be found at: http://ascopubs.org/doi/full/10.1200/PO.17.00146.