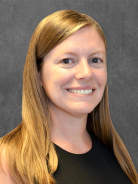 Toni Beninato, MD, MS, FACS
Endocrine Surgeon
Assistant Professor of Surgery, Rutgers Robert Wood Johnson Medical School
I am an endocrine surgeon in the Section of Endocrine Surgery at Rutgers Cancer Institute of New Jersey and an Assistant Professor of Surgery at Rutgers Robert Wood Johnson Medical School. I treat benign and malignant tumors of the thyroid, parathyroid, and adrenal glands. I believe that in the field of endocrine surgery, there are often many different solutions for a single problem. Treatment options for endocrine disorders need to be tailored to the individual patient's history, preferences, and concerns, and no two patients are the same. My goal is to take a patient-centered approach to treating endocrine disorders with the best evidence-based practices, and provide patients with all of the available options to help them to make an informed decision about their care.
I attended New York University and earned my medical degree from Rutgers New Jersey Medical School where I was elected to the Alpha Omega Alpha Honors Society. I then completed internship and residency at New York Presbyterian - Weill Cornell Medical Center, dedicating two years to performing endocrine oncology research. I served as Administrative Chief Resident during my final year of residency. I then completed a fellowship in endocrine surgery at the University of California, San Francisco. I have published over 40 peer-reviewed articles, written several book chapters, and given multiple national presentations in the field of endocrine surgery. I am a member of the American College of Surgeons, the American Association of Endocrine Surgeons, the American Thyroid Association, the Association for Academic Surgery and the Association of Women Surgeons.
Prior to joining Rutgers Cancer Institute, I was an Assistant Professor of Surgery at Weill Cornell Medicine and at New York Presbyterian Brooklyn Methodist Hospital. During that time, I enrolled at the Graduate School of Medical Sciences at Cornell University to obtain a Masters of Science in Health Policy and Economics. I perform research on healthcare disparities and access to care in patients with endocrine malignancies, and also have a special interest in studying the behavior of rare subtypes of endocrine cancers. I am a native of New Jersey and thrilled to be able to provide care to patients in my home state.
Clinical Expertise
Endocrine tumors, neuroendocrine tumors, carcinoid tumors, thyroid surgery, parathyroid surgery, adrenal gland surgery, adrenocortical cancer, pheochromocytoma, paraganglioma, multiple endocrine neoplasia, minimally invasive surgery, and clinical trials.