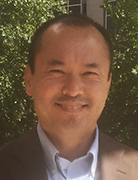 Sung Kim, MD
Radiation Oncologist
Professor of Radiation Oncology, Rutgers Robert Wood Johnson Medical School
Clinical Director, Radiation Oncology, Rutgers Cancer Institute University Hospital
I have been at the Cancer Institute of New Jersey since 2006, after completing medical school and radiation oncology residency at Yale. Prior to that I attended the U.S. Naval Academy and served as a submarine officer aboard the USS Asheville (SSN 758).
My passion is treating head and neck cancer, and improving the care of these patients is my career goal. To that end, I treat patients at both Robert Wood Johnson University Hospital in New Brunswick and at University Hospital in Newark. Treating head and neck cancer requires a team, and at both locations, we have a highly trained team of ENT surgeons, medical oncologists, and radiation oncologists to optimize our patients' care. We discuss our patients at head and neck tumor board, and constantly communicate with each other during treatment. To improve the care of future head and neck patients, I have written and am currently enrolling to a head and neck cancer trial designed to help personalize chemotherapy for patients receiving chemotherapy and radiation.
Education is another passion of mine, and I have enjoyed teaching head and neck radiation courses to radiation oncologists and radiologists at RSNA (Radiological society of North America) for a number of years. I have worked with other radiation oncologists to offer comprehensive, free online video tutorials on how to treat head and neck cancer: https://www.educase.com/index.php/edumods/guruLogin/listcourses. These courses allow anyone around the world to learn how to treat all the primary head and neck sites for free. Rutgers CINJ has the only radiation oncology residency program in New Jersey, and I have been fortunate enough to serve as the program director since 2008, helping to educate the next generation of radiation oncologists.
In another capacity, I work with the head and neck section of the ABR (American Board of Radiology) to board certify radiation oncologists. We examine radiation oncologists with written exams and in person to ensure that they are proficient in treating head and neck cancer before they earn board certification.
My final role is as medical director of the Newark branch of the Rutgers radiation oncology department at University Hospital in Newark, NJ. Our department is committed to offering our patients the very best cancer care available, with a warm, human touch.
Clinical Expertise
Head and neck cancer, tonsil and other throat cancers, radiation oncology