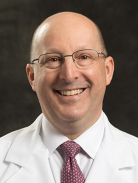 Steven K. Libutti, MD, FACS
Director, Rutgers Cancer Institute of New Jersey
Vice Chancellor for Cancer Programs, Rutgers Biomedical and Health Sciences
Senior Vice President, Oncology Services, RWJBarnabas Health
Professor of Surgery, Rutgers Robert Wood Johnson Medical School
Affiliated Distinguished Professor in Genetics, Rutgers School of Arts and Sciences Department of Genetics
Along with my leadership roles at Rutgers Cancer Institute of New Jersey and RWJBarnabas Health, I am also a surgical oncologist with expertise in the management of cancer of the liver, pancreas, gastrointestinal (GI) tract, thyroid, parathyroid, and adrenal glands.  I specialize in endocrine surgery and neuroendocrine tumors.  Abnormal growths that can occur anywhere in the body, neuroendocrine tumors begin in specialized cells and have the ability to secrete hormones. 
I strive to achieve a synergy between my clinical interests and my laboratory interests so that I don't feel like I am neglecting one or the other.  For instance, when I am in the laboratory, I know that I am studying disease to help me become more effective at treating that disease.  When I am in the clinic or the operating room, I am learning about the disease first hand by treating it. My laboratory, which has been funded by the NCI for the past 20 years, studies the development and growth of neuroendocrine tumors in various models and strategies to develop novel cancer therapies through an understanding of the tumor microenvironment and blood vessel formation in tumors.
Before joining Rutgers Cancer Institute I served as Director for the Montefiore Einstein Center for Cancer Care in New York City and was a Professor and Vice Chairman of the Department of Surgery and Professor in the Department of Genetics at Albert Einstein College of Medicine and Montefiore Health System. I am the immediate Past President of the American Association of Endocrine Surgeons.
After graduating magna cum laude from Harvard College, I received my medical degree from the College of Physicians and Surgeons of Columbia University. I remained at Presbyterian Hospital in New York where I completed my residency in surgery, followed by a fellowship at the NCI in surgical oncology and endocrine surgery.
Clinical Expertise
Neuroendocrine tumors, thyroid cancer, parathyroid tumors, pancreatic cancer, liver cancer, gastrointestinal (GI) cancers, minimally invasive surgery, and clinical trials.