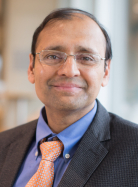 Sanjay Goel, MD, MS
Director of Phase I / Investigational Therapeutics
Medical Oncologist
Professor of Medicine, Division of Medical Oncology, and Section of Solid Tumor
Rutgers Robert Wood Johnson Medical School
Sanjay Goel, MD, M.S. is an attending physician and a Professor of Medicine at Rutgers Cancer Institute of New Jersey. He received his medical degree from Christian Medical College, Vellore, India, and then did a residency in internal medicine and fellowship in Hematology and Medical Oncology. He also completed a 2-year program obtaining a Master of Science (M.S.) degree in Clinical Research from the Albert Einstein College of Medicine. 
Dr. Goel is the Director of Phase I Therapeutics at Rutgers Cancer Institute. He has an interest in drug development of anti-cancer agents, and development of biomarkers of drug response. He has extensive experience in cancer clinical trials, in phase I, and in phase II and III trials in gastrointestinal and genitourinary malignancies. His clinical interests lie in immunotherapy of cancer in general and colorectal cancer in particular. He runs a research laboratory with a focus on drug and biomarker development for patients with colorectal cancer. His work also includes outcomes of health in minority patients and health disparities. 
He has multiple research awards to his credit and has over 100 research publications. He has been the recipient of the Advanced Clinical Research Award (ACRA) in colorectal cancer by the Conquer Cancer Foundation (CCF), of the American Society of Clinical Oncology (ASCO), and has also funded by the National Institutes of Health. He has served on the CCF Grant Review Committee, and as the track leader of the Scientific Program Committee in the "Developmental Therapeutics and Translational Research – Immunotherapy" track, of ASCO.
Clinical Expertise
Medical Oncology, Clinical trials, Gastrointestinal cancers