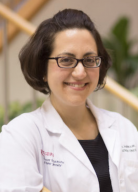 Salma Jabbour, MD
Radiation Oncologist
Vice Chair of Clinical Research & Faculty Development
Clinical Chief, Radiation Oncology at RWJUH/Rutgers Cancer Institute
With a subspecialty in lung and gastrointestinal cancers (colon/rectum, pancreas, stomach, liver, esophagus, small intestines), I work closely with a multi-disciplinary team from our Thoracic Oncology and Gastrointestinal Oncology Programs in order to educate patients and help them make an informed decision about what treatment options are right for them.  I have been at The Cancer Institute of New Jersey since 2006 following residency training at Johns Hopkins Hospital. 
Cancers in the chest and abdomen can move a lot as the patient breathes normally.  I believe that it is important to understand how tumors move to target them accurately. By having the most recent technology that can only be found at a National Cancer Institute-designated Comprehensive Cancer Center, I am able to see how tumors move so that the tumor is targeted properly and not missed.  I know firsthand that when radiation therapy is designed with great care and experience, it can have excellent results with few side effects.
As a member of the American Society for Radiation Oncology (ASTRO), the American College of Radiology (ACR), and the Radiation Therapy Oncology Group (RTOG), I serve on several national committees that help to decide which radiation treatments are best for patients.  Specifically, I help to design the guidelines for gastrointestinal radiation therapy as part of the ACR. Also, as a member of the RTOG Gastrointestinal Steering Committee, I am aware of the latest radiation treatments and can help you to decide the best course of radiation.
I believe the use of modern techniques such as Intensity Modulated Radiation Therapy (IMRT) and Stereotactic Body Radiation Therapy (SBRT or CyberKnife treatment) can improve the treatment for my patients.  These types of treatments require a high-level of expertise, which I can provide.  We also were the first program in the state of New Jersey to offer Yttrium-90 radioembolization, a very special treatment for liver tumors, which delivers the radiation internally in the liver.  In meeting with me, all options will be explained thoroughly to make the best decision for you.
Clinical Expertise
Gastrointestinal malignancies, thoracic cancers, lung cancer, Yttrium-90 radioembolization, stereotactic body radiation therapy (SBRT) /stereotactic ablative body radiation (SABR), intensity modulated radiation therapy (IMRT), radiation oncology
Honors
American College of Radiology, GI Appropriateness Criteria
RTOG GI Steering Committee
Journal of Clinical Oncology, Editorial Board