NEW BRUNSWICK, N.J., June 3, 2019 – Earlier today, RWJBarnabas Health and Rutgers Cancer Institute of New Jersey, in partnership with New Brunswick Development Corporation announced the development of a new, state-of-the-art, free-standing cancer pavilion in New Brunswick. The initial estimated project cost is $750 million.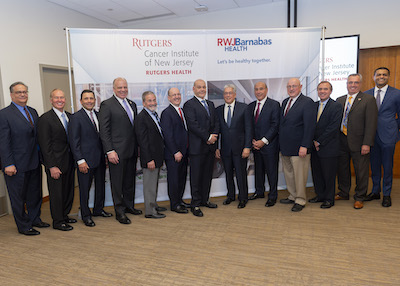 The new pavilion will house key outpatient services, including those for chemotherapy and radiation therapy, as well as the major diagnostic modalities, and inpatient cancer services.
The space will also feature research laboratories, enabling physician-scientists to more rapidly translate scientific findings from laboratory bench to patient bedside, resulting in clinical assessment, feedback on clinical trials and collection of research data in a more rapid and direct fashion. Research is a core pillar of Rutgers Cancer Institute, the state's only National Cancer Institute-designated Comprehensive Cancer Center.  As New Jersey's largest and most comprehensive academic healthcare system, RWJBarnabas Health works in partnership with Rutgers Cancer Institute to provide the most advanced patient-centric, integrated cancer care close to home for residents throughout the state.
"The Cancer Pavilion will be a model for cancer care delivery on the East Coast, bringing together the three mission areas of academic medicine – research, education, and patient care – all under one roof," said Barry H. Ostrowsky, President and Chief Executive Officer, RWJBarnabas Health.
The pavilion will be located on property immediately adjacent to the existing Robert Wood Johnson University Hospital and Rutgers Cancer Institute of New Jersey campus, although its exact location is still being identified.
"The Rutgers Cancer Institute of New Jersey and RWJBarnabas are already at the forefront of life-saving treatments for their patients because of their commitment to modern and evolving healthcare for all," said Mayor Jim Cahill. "The realization of this new facility will allow for even more services, treatment and hope for those who seek the aid of these globally-renowned institutions in an epicenter of cutting-edge medical and research technology and innovation that will help shape a better tomorrow."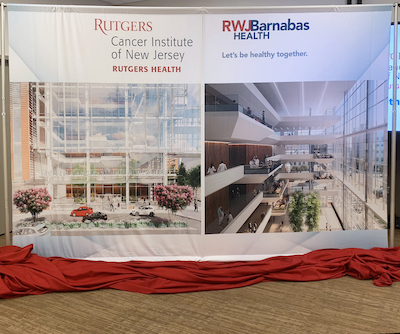 "This new state-of-the-art free-standing cancer pavilion featuring inpatient capacity coupled with research laboratories is a first of its kind in our state. It is only fitting that it will encapsulate the wide-ranging oncology care services offered by Rutgers Cancer Institute, New Jersey's only National Cancer Institute-designated Comprehensive Cancer Center, in partnership with RWJBarnabas Health, New Jersey's largest health system," notes Rutgers Cancer Institute Director Steven K. Libutti, MD, FACS, who is also the senior vice president of oncology services at RWJBarnabas Health. "By providing inpatient care in conjunction with world-class treatment and unique patient amenities all in one footprint, we are enhancing the level of care for the patients we serve in New Jersey and beyond."
"Together, RWJBarnabas Health and the Rutgers Cancer Institute of New Jersey are committed to providing New Jersey cancer patients with the most advanced treatments available and the development of the new cancer pavilion in New Brunswick will ensure that those vital resources are easily accessible right here in our state," said Brian L. Strom, MD, MPH, Chancellor, Rutgers Biomedical and Health Sciences, Executive Vice President, Health Affairs, Rutgers University.
The estimated schedule for completion of the project spans 48 months. It is anticipated that the site work will begin in the summer of 2020.
# # #
ABOUT RWJBARNABAS HEALTH
RWJBarnabas Health is the largest, most comprehensive academic health care system in New Jersey, with a service area covering nine counties with five million people. The system includes eleven acute care hospitals – Clara Maass Medical Center in Belleville, Community Medical Center in Toms River, Jersey City Medical Center in Jersey City, Monmouth Medical Center in Long Branch, Monmouth Medical Center Southern Campus in Lakewood, Newark Beth Israel Medical Center in Newark, RWJUH  in New Brunswick, RWJUH  Somerset in Somerville, RWJUH  Hamilton, RWJUH Rahway and Saint Barnabas Medical Center in Livingston; three acute care children's hospitals and a leading pediatric rehabilitation hospital with a network of outpatient centers, a freestanding 100-bed behavioral health center, two trauma centers, a satellite emergency department, ambulatory care centers, geriatric centers, the state's largest behavioral health network, comprehensive home care and hospice programs, fitness and wellness centers, retail pharmacy services, a medical group, multi-site imaging centers and an accountable care organization.
RWJBarnabas Health is New Jersey's largest private employer – with more than 34,000 employees, 9,000 physicians and 1,000 residents and interns – and routinely captures national awards for outstanding quality and safety. RWJBarnabas Health recently announced a partnership with Rutgers University to create New Jersey's largest academic health care system. The collaboration will align RWJBarnabas Health with Rutgers' education, research and clinical activities, including those at the Rutgers Cancer Institute of New Jersey - the state's only NCI-designated Comprehensive Cancer Center - and Rutgers University Behavioral Health Care.
About Rutgers Cancer Institute of New Jersey
As New Jersey's only National Cancer Institute-designated Comprehensive Cancer Center, Rutgers Cancer Institute, along with its partner RWJBarnabas Health, offers the most advanced cancer treatment options including bone marrow transplantation, proton therapy, CAR T-cell therapy and complex robotic surgery.  Along with clinical trials and novel therapeutics such as precision medicine and immunotherapy – many of which are not widely available – patients have access to these cutting-edge therapies at Rutgers Cancer Institute of New Jersey in New Brunswick, Rutgers Cancer Institute of New Jersey at University Hospital in Newark, as well as through RWJBarnabas Health facilities.
Along with world-class treatment, which is often fueled by on-site research conducted in Rutgers Cancer Institute laboratories, patients and their families also can seek cancer preventative services and education resources throughout the Rutgers Cancer Institute and RWJBarnabas Health footprint statewide. To make a tax-deductible gift to support the Cancer Institute of New Jersey, call 848-932-8013 or visit www.cinj.org/giving.
For journalists – contact:
Michele Fisher, Public Relations Manager
732-235-9872
michele.fisher@rutgers.edu

For patient appointments/inquiries – contact:
732-235-8515