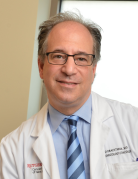 Richard Drachtman, MD
Clinical Section Chief, Pediatric Hematology/Oncology
Since completing my residency at North Shore University Hospital and a fellowship at Mt. Sinai Medical Center, I have always believed in treating the "whole" child. The Pediatric Hematology/Oncology Program at the Cancer Institute interacts closely with the Medical Oncology Program allowing young adults who can otherwise fall through the cracks be treated by both teams, ensuring they receive appropriate therapy.
Working closely with colleagues across all disciplines in the Pediatric Hematology/Oncology Program, I help educate patients and their families about the treatment options available to them, which often include clinical trials. As a member of the Children's Oncology Group, I help design clinical trials for children affected by cancer. The Children's Oncology Group is the world's largest pediatric cooperative cancer research entity conducting trials sponsored by the National Cancer Institute (NCI). I am a member of the  Hodgkin's disease, committee an affliction which is common in adolescents. I am also the chair of NCI-Pediatric Central Institutional Review Board, reviewing NCI-sponsored pediatric clinical trials to ensure that they are conducted in a safe and scientifically sound fashion. Many of these national trials are available at the Cancer Institute, where our team is able to translate these research findings and directly apply them to patient therapies.
I also have an interest in benign hematology and am particularly interested in sickle cell disease and am the director of the Pediatric Comprehensive Sickle Cell Center at Robert Wood Johnson Medical School. Children with sickle cell disease benefit from the expertise of an entire team dedicated to their care.
My personal philosophy regarding pediatric hematology and oncology is that regardless of their age, children and young adults need to have age appropriate concerns, such as school, addressed. Our team includes full time accredited teachers that allow students to continue their studies and not miss school while undergoing therapy.
Clinical Expertise
Pediatric cancers, sickle cell disease, Hodgkin disease