Roger Strair, MD, PhD is a medical oncologist and chief of blood disorders at Rutgers Cancer Institute of New Jersey and professor of medicine at Rutgers Robert Wood Johnson Medical School.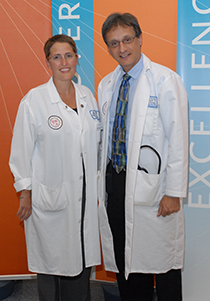 Dr. Roger Strair and long-time colleague nurse Jackie Manago.
Dr. Roger Strair has been a physician and researcher at the Cancer Institute of New Jersey for 18 years.  For all of this time he has focused his efforts on the care of patients with hematologic (blood-derived) malignancies such as leukemia, lymphoma, multiple myeloma, myelodysplasia and related disorders.  He has also been a founding member of the Cancer Institute's Hematopoietic/Bone Marrow Transplant Program. Dr. Strair works with a specialized group of medical oncologists, nurse practitioners, bone marrow transplant coordinators, nurse clinicians and laboratory research scientists, who are engaged in novel research. Supported by the Institute, individual research grants, and funds donated by fund raising activities such as the Century for the Cure bicycle ride and the Two Guys Golf Event, early phase laboratory and clinical studies designed to ease the burden of cancer are underway.  Some of those research efforts include:
Listening to the Patient
While many patients with acute leukemia have a disease that enters remission with standard chemotherapy, some patients have leukemia that is resistant to treatment or relapses after remission is obtained.  Such was the unfortunate situation for one patient two years ago.  She was discharged from the hospital to recover from treatment, in anticipation of returning to the Cancer Institute of New Jersey to participate in a clinical trial testing a new agent.  However, when she returned to the Cancer Institute two weeks later, her leukemia had regressed.  Detailed analysis of her diet and living conditions raised the prospect that her consumption of an herbal tea prepared by her mother may have played a role.  She told us that something amazing had occurred and, we followed her lead. The tea leaves were obtained and tested in the laboratory at the Institute and found to kill leukemia cells.  Tragically, the patient's remission only lasted several months, but the hope is that isolation of the active ingredient in the tea will provide another important tool in the battle against leukemia.  In pursuing this, the Cancer Institute of New Jersey initiated an ongoing multi-institutional collaborative research project with Dr. Daniel Medina of the Cancer Institute and Drs. Edmond LaVoie and James Simon of Rutgers University.
Immune Therapy for Kidney Cancer
Working with Dr. Mark Stein of the Cancer Institute's Genitourinary Group, a new immune therapy for kidney cancer developed at the Institute has been implemented.  This treatment utilizes immune cells donated by a close relative. The cells are then treated in the laboratory and given to the patient to help stimulate an immune attack on the cancer.  Correlative laboratory studies demonstrate that the donated immune cells likely instruct the patients own immune cells to attack the cancer.  This clinical study is ongoing.
A New Therapy for Patients with Leukemia
Several years ago studies revealed that when acute leukemia cells grow in the laboratory they are dependent on a component called "nuclear factor kappa B". Cancer Institute of New Jersey research studies done in collaboration with Dr. Daniel Medina and Dr. Arnold Rabson, director of the Child Health Institute at Robert Wood Johnson Medical School, determined that nuclear factor kappa B is inhibited in the leukemia cells when patients take a commonly-used anti-inflammatory drug.  In a new study at the Institute, the anti-inflammatory agent is being combined with standard leukemia therapy to determine if the treatment results in molecular changes in the leukemia cell that predict for better outcomes. 
Transplant: Not for Everyone…Yet
A bone marrow (or hematopoietic stem cell) transplant can be a life-saving procedure.  One type of transplant requires a donor of bone marrow or stem cells.  Possible donors include siblings (one in four will have the right tissue type) or unrelated donors who have volunteered and are on registries.  However, many patients will not have a donor.  Umbilical cord blood obtained at birth is a good source of stem cells, as they can be saved and made available to others who may need them as a donor source.  Unfortunately, many umbilical cord blood units are too small to be used in adult transplantation, as there aren't enough cells.  Research by the Cancer Institute's Hematologic Malignancies Tumor Study Group demonstrated that "supporting" cells obtained from a relative that is not the same tissue type can make the umbilical cord blood cells work better in mice, even if there are only limiting numbers of umbilical cord blood cells.  These results have led to the development of a study in patients who might benefit from a transplant but have no donor availability other than an umbilical cord blood that would otherwise be too small (and dangerous) to use.  This study may make transplant an option for patients previously excluded from this potentially life-saving procedure.  It may be particularly useful for some racial and ethnic minority populations that have a genetic diversity that makes finding an unrelated donor more difficult.
Despite great advances in therapy, many patients still suffer from the ill effects of cancer and/or its treatment.  Unfortunately, breakthroughs in treatment never occur quickly enough to help all patients. It is a continuing goal of Dr. Strair and the Hematologic Malignancies Tumor Study Group to bring more research endeavors to fruition.