New Brunswick, N.J., August 17, 2023 –As fall approaches, it's time to start thinking about getting children and teens ready to head back to the classroom. To kick-start the new school year, consider these healthy tips from Peter Cole, MD, chief of Pediatric Hematology/Oncology at Rutgers Cancer Institute of New Jersey.  
See your pediatrician. Getting your children and teens ready to go back to school is the perfect time to make sure they are up-to-date on their regular health screenings, including preventative measures like immunization to ensure they are protected from communicable diseases.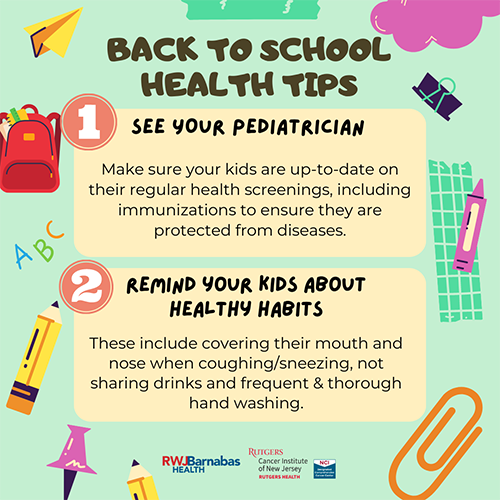 Remind your kids about healthy habits to prevent spreading germs. These include covering their mouth and nose when coughing/sneezing, not sharing drinks and frequent and thorough hand washing. 
Monitor your kids' health and wellbeing. Watch for signs of illness (cough, sore throat, runny or stuffy nose, etc.) Peak influenza season is just around the corner! Other important parts of your child's health include their cognitive (learning and thinking) development, social and emotional growth, and mental health.  
Focus on nutrition and exercise. It is important that kids eats nutritious meals that include lots of fruits, vegetables, whole grains and fiber to support their growth and development. Daily exercise also helps children to build stronger muscles and bones and limit excess body fat.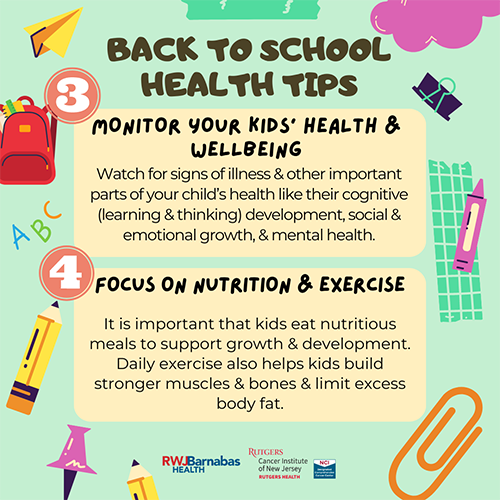 For children and teens continuing school during cancer treatment, this is a great time to bring a sense of normalcy back into their lives. Surrounded by their support network with more opportunity for activities and physical exercise can be a welcome break from a hospital setting and may help with some treatment side effects.  
Dr. Cole is the Embrace Kids Foundation Endowed Chair of Pediatric Hematology/Oncology at Rutgers Cancer Institute the state's leading cancer program and only NCI-designated Comprehensive Cancer Center together with RWJBarnabas Health.. He is also the Director of the New Jersey Pediatric Hematology/Oncology Research Center of Excellence (NJ PHORCE) at Rutgers Cancer Institute and Professor of pediatrics at Rutgers Robert Wood Johnson Medical School.  
For journalists – contact:    
Krista Didzbalis     
Media Relations Assistant     
732-507-8307    
krista.didzbalis@rutgers.edu    
    
For patient appointments/inquiries – contact:    
844-CANCERNJ (844-226-2376)