Story by Mary Ann Littell • Portraits by John O'Boyle        View the complete magazine | Subscribe to Cancer Connection
Liz Tague learned she was pregnant in June 2016. As thrilled as she and her husband Brian were, they found it difficult to celebrate. She'd just had a mammogram, and it showed a suspicious lesion in her left axilla, near her armpit.
Her feelings of dread and anxiety were all too familiar. It's because she'd been through breast cancer five years earlier, right after she and her husband were married. At that time she had the lesion excised, followed by chemotherapy, radiation, and breast reconstruction. Because the disease had spread to her lymph nodes and was estrogen positive, she also had post-operative radiation to the chest wall at Saint Barnabas Medical Center, an RWJBarnabas Health facility, in Livingston, under the care of radiation oncologist Alison Grann, MD, chair of the Department of Radiation Oncology there. Little did Tague know at that time, their paths would cross in the future, and Dr. Grann would help play a role in the expert care she would later receive.
Facing cancer again, and as an expectant mother and searching for the best treatment, Tague called upon the expert team at Rutgers Cancer Institute of New Jersey. Her care included proton beam therapy, an exciting cutting-edge radiological modality that is being used with great success to treat many cancer patients, including those with recurrent breast cancer. 
Not only was Tague's treatment successful, but she was able carry her baby to full term. Little Liam is now three years old. "Having this little guy wasn't easy," she says. "But I wasn't about to let cancer stop me."
Tague is nothing if not a planner. Before her first cancer was treated, she underwent fertility preservation—having her eggs frozen and stored. After taking tamoxifen to improve her chances for long-term survival, she began her quest to become pregnant. She had a few rounds of in vitro fertilization in early 2016. On June 28, a pregnancy test was positive. 
At the same time, something else was going on. "Throughout the spring I had been feeling twinges in my left armpit, almost like a tingling," she says. "As a breast cancer survivor, I'm very sensitive when anything feels different." She had a mammogram, then a biopsy. On August 1, she received the devastating news that the cancer had returned. It was in the same location as her first cancer: her left axilla.
"Having children is something I wanted so badly," she says. "Now I was finally pregnant. I wondered, 'Can I be treated for cancer and still have this baby?' I'm by nature a realistic person, very linear. I analyze things, make a plan, and tick off what I have to do. Sure, I was frightened. But since I'd faced cancer before, I had confidence that with the right care, I'd be fine."
Because of her pregnancy and complex medical history, Tague's oncologist referred her to medical oncologist Deborah Toppmeyer, MD, at Rutgers Cancer Institute, the only National Cancer Institute (NCI)-designated Comprehensive Cancer Center in the state. Tague first saw an oncologist at a large cancer center in New York. But she liked what she'd heard about Rutgers Cancer Institute and preferred getting care closer to her home in Kenilworth. 
Tague went to see Dr. Toppmeyer in August. As chief medical officer, chief of medical oncology, director of the LIFE Center, and director of the Stacy Goldstein Breast Cancer Center at the Institute, Toppmeyer oversees a breast cancer treatment program that's nationally recognized for its excellence. 
Caring for a pregnant patient with cancer presents many complex challenges to both mother and baby. Toppmeyer assured Tague that she could be treated for breast cancer while pregnant, using chemotherapy agents that do not harm the fetus when given after the first trimester. "Liz was highly motivated to maintain her pregnancy and there is no clinical evidence with her type of tumor that this choice would affect her outcome or that of the baby's," notes the doctor. 
"Dr. Toppmeyer is dynamic and reassuring," says Tague. "And she's got these expressive brown eyes. She turned her gaze on me and said, 'We will help you. You and your baby will be okay.' I immediately felt very comforted."
In September 2016 Tague had a lumpectomy at a community hospital. Two weeks later, she went to Robert Wood Johnson University Hospital (RWJUH), an RWJBarnabas Health facility, for chemotherapy to eradicate any remaining cancer cells. "Having been through chemo before was a definite advantage," she says. "I knew what to expect."
Tague had strong support from Brian, as well as her close-knit family. They'd had plenty of experience with cancer: one aunt died from brain cancer, another from lung cancer. He brother Leo coined a catchy phrase to spur her through her treatment: "Pumping the Positivity." The phrase meant powering through and remaining positive. It became her mantra.
Through the fall, the couple kept Baby Tague a secret from all but their family and closest friends. "We didn't know what was going to happen," notes Tague. By Thanksgiving, which was also Tague's 38th birthday, they were confident enough to announce the pregnancy with a sweet photo posted on Facebook. The smiling couple stand arm in arm, with Tague wearing a T-shirt saying, "Little Turkey on Board."
The next step was evaluating the possibility of having radiation therapy to prevent further recurrence. Tague could not be treated with any type of radiation until after the baby was born. There was another consideration as well: She had already had a course of radiation therapy for her first cancer, and doctors avoid radiating the same area twice because too much radiation harms body tissues.
Consulting with both Toppmeyer and Grann, her initial radiation oncologist at Saint Barnabas Medical Center, Tague learned about another option that might be available to her: proton beam therapy. They advised her to meet with radiation oncologist Bruce Haffty, MD, to learn more. Dr. Haffty is associate vice chancellor for cancer programs at Rutgers Cancer Institute and chair of radiation oncology at Rutgers Robert Wood Johnson Medical School and Rutgers New Jersey Medical School. Tague met with him in December 2017.
Because of her prior radiation to the left chest wall and lymph nodes, Haffty proposed a unique plan of utilizing proton beam to treat the area of recurrence in the axilla, while sparing radiation to the surrounding previously irradiated tissues. Protons can be better focused in some cases to treat a specific area while minimizing radiation to surrounding tissues, while conventional radiation therapy may result in higher doses to surrounding tissues. Haffty explains: "This is due to some unique features of proton beam where the radiation enters the body and stops at a specified point in the tissue with little or no spillover into the surrounding area, while conventional X-rays may continue to penetrate the surrounding tissue." 
Proton beam can be used to prevent exposure to healthy tissues, including the heart or lung, with fewer short-term and long-term side effects, particularly in patients previously treated with radiation. When used in treating pediatric cancers, it avoids widespread radiation to surrounding bones and soft tissues. It is available at approximately 35 specialized centers in the U.S., including the Laurie Proton Therapy Center at RWJUH.   
Haffty discussed the treatment plan with Grann. She agreed it was the right approach. "An advantage of our health network is the ease of consultation among member physicians," notes Haffty. "This ability to share information and collaborate benefits patients."
Her plan in place, Tague focused on having a healthy baby. Little Liam arrived right on schedule on March 1, 2017. After four more rounds of chemo Tague began her proton therapy in early August. "This part was easy," she says. "It only took a few minutes. I'd bring Liam with me and my aunt would meet us there. I'd hand him off to her while I had the therapy. Sometimes the nurses would play with him too." 
Once her treatment was finished, Tague put cancer behind her and moved on. "I feel great," she says. "Many times I forget I even had cancer."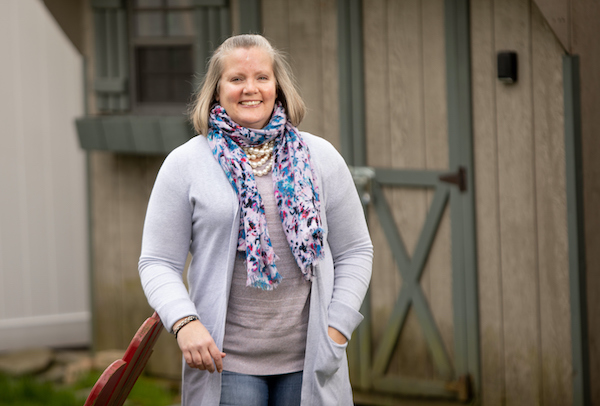 Liz Tague
Three years later, Liam is an adorable toddler who's the image of his doting parents. "I worried about all the effects of the chemotherapy on him, but he's very healthy," notes Tague. She's returned to her teaching job and Liam goes to a day care center up the street from the family's home.
Paying it forward, she helps other patients by volunteering for an organization called Casting for Recovery. "This is a fly-fishing retreat weekend for breast cancer survivors—an amazing weekend of love, support, and fishing. I'm not a fly fisherman, but I've played sports all my life. I'm now a coordinator for this organization. I love being on the water." She also supports another organization started by a college friend and rugby player: Fighting Pretty. They raise money to make women feel pretty as they battle cancer.  
Haffty is optimistic about Tague's prognosis. He ticks off a couple of indicators that she should do well: "First, the interval between the original tumor and the recurrence is five years. There was a long interval when she was disease-free, which is a good sign. Her recurrence wasn't massive, it was small and relatively isolated. It was in the axilla, a somewhat favorable location, as opposed to the supraclavicular (collarbone) area or the internal mammary nodes, which are harder to reach. Also, she has had
"Throughout all of this, I've always been optimistic that I'd get better," says Tague. "I have never felt like I was going to die, and I consider myself very blessed to be treatable and curable not just once, but twice."
Photo credits: Dr. Haffty portrait, credit Nick Romanenko; Dr. Toppmeyer portrait, credit John O'Boyle