Story by Mary Ann Littell • Photos by John O'Boyle   View the complete magazine | Subscribe to Cancer Connection
There's great news on the horizon: We're winning major battles in the war on cancer. The U.S. cancer death rate fell 2.2 percent in 2017, the largest single-year drop ever reported. The cancer death rate in the U.S. dropped 29 percent from 1991 to 2017. That translates into an estimated 2.9 million fewer cancer deaths than if the mortality rate had remained constant at its peak level.
The data is from a yearly American Cancer Society report on new cancer cases and deaths. Drivers for the declines include improved outcomes for lung and other cancers, reduced incidence of smoking, and the development of breakthrough therapies and surgical innovations.
This progress brings hope to patients and joy to cancer specialists, including Russell C. Langan, MD, chief of surgical oncology at Saint Barnabas Medical Center, an RWJBarnabas Health facility in Livingston. As a member of the Gastrointestinal/Hepatobiliary Oncology Program at Rutgers Cancer Institute of New Jersey, he's on the front lines of cancer care. Fellowship-trained in the surgical management of hepatobiliary, pancreas and intestinal cancers, the majority of his cases involve the pancreas.
Through the partnership between Rutgers Cancer Institute and RWJBarnabas Health, Dr. Langan sees patients in Livingston and New Brunswick. Since the partnership began in 2017, he's been hard at work building a strong multidisciplinary team of clinicians at both institutions. This team works together, regardless of geography, to make sure patients throughout the state get the highest level of care and access to the latest clinical trials.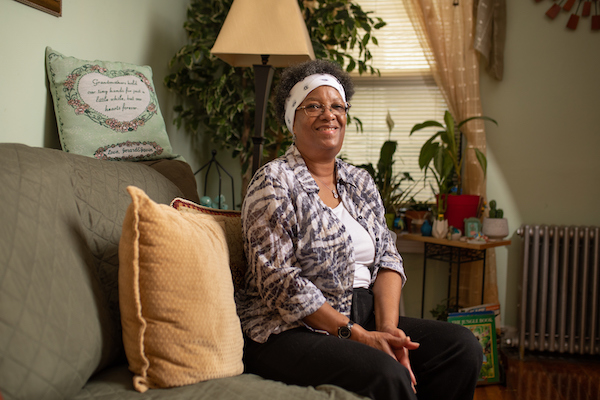 Patricia Brown
"Cancer care does not travel well and we truly believe high-quality cancer care should be delivered close to home," says Langan, who is also an assistant professor of surgery at Rutgers Robert Wood Johnson Medical School. "Tapping into the Cancer Institute's expertise as the state's only National Cancer Institute-designated cancer, we've created a pancreas center of excellence in Livingston. We offer NCI-level care at both locations. It's win-win for patients."
Just ask his patient Patricia Brown of Orange. Diagnosed with pancreatic cancer in June 2018, she's come through a year of intensive treatment. Now cancer-free, she considers herself fortunate to have found outstanding care close to home.
The 64-year-old, known as Trish, Patty, or even Patty Cake, has a bright smile and sunny disposition that's perfectly suited to her work as a home aide. It's work she truly enjoys, caring for people in their homes, tempting them with homemade treats, and doing a little housekeeping. Family is everything to her and she's close to her siblings, her grown son and five grandsons. This past year she cared for her beloved baby sister, who succumbed to colon cancer in July 2018. Cancer has affected other members of her family as well.
Active and healthy all her life, Brown began getting severe back pains a few years ago. "My doctor thought it was arthritis and gave me pain medication, but it didn't help," she says.
The pain came and went, gradually intensifying. In June 2018 it became unbearable and spread to her lower abdomen, accompanied by bouts of vomiting. After one particularly severe episode, her longtime significant other, Thomas Stocks, took her to the emergency department at Saint Barnabas Medical Center. 
She was referred to gastroenterologist Lawrence Rosenthal, MD. With expertise in advanced endoscopy and endoscopic oncology, he is part of the multidisciplinary oncology team at Saint Barnabas. He did an endoscopic ultrasound and pancreatic biopsy, a high-tech procedure available primarily at larger academic health centers. Unfortunately, it was positive for cancer.
"When Dr. Rosenthal said I had pancreatic cancer, I was in total shock," says Brown. "In my mind, I couldn't have cancer. I have children and grandchildren I have to live for! I told myself, 'I have to beat this.'"
Pancreatic cancer statistics could send the most optimistic person into a tailspin. An estimated 57,000 Americans will be diagnosed with it in 2020. Pancreatic cancer has the lowest survival rate of all the common cancers. Historically, the average survival for patients treated with surgery and chemotherapy has been a little more than two years. But that is changing, says Langan.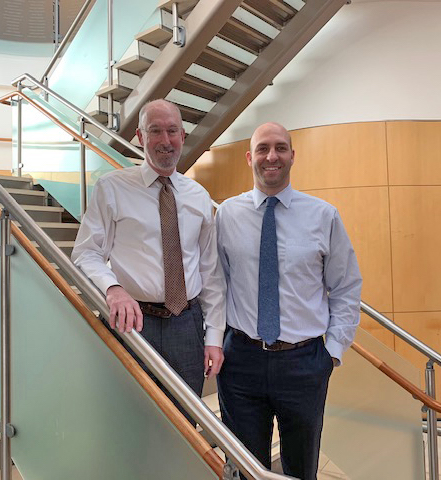 "The chances for improved long-term survival for Patricia Brown are very good. We used modern systemic therapy before her surgery, safely performed an aggressive operation, got her discharged quickly and gave her chemotherapy and radiation therapy. She had state-of-the-art care," says Russell C. Langan (above, right), chief of surgical oncology at Saint Barnabas Medical Center in Livingston, and a member of the Gastrointestinal/Hepatobiliary Oncology Program at Rutgers Cancer Institute. He collaborated with H. Richard Alexander, Jr., MD, FACS (above, left), chief surgical officer and division chief of surgical oncology at Rutgers Cancer Institute, on the case.
"There's some real momentum now," he notes. "The survival rate for resected pancreatic cancer has doubled in the last five years. We are now seeing many patients living four years or more, thanks to significant improvements in surgery, modern chemotherapies, and innovative team approaches. With advances in medicine, we expect these numbers to improve even more."
Brown first saw Langan in June 2018. "She had a pancreatic tumor that was very close to major blood vessels," he says. "Our plan was to remove the tumor, with the goal of obtaining a negative margin—meaning that no cancer cells are seen at the edge of the tissue that was removed." In order to ensure this, he laid out a team approach and started with chemotherapy prior to the surgery. "We do this to try and shrink the tumor so it pulls away from some of those blood vessels," explains Langan. "Sometimes we use radiation before surgery as well. This multi-modal attack on the tumor is what I believe is allowing for the increases in long-term survival."
He adds: "If you look at the data, about 20 to 25 percent of pancreatic cancer patients will have a positive margin following surgery. We believe that giving therapy before surgery may decrease that number, improving the chance for longer-term survival."
Brown had several rounds of chemotherapy, administered by Saint Barnabas medical oncologist Delia Radovich, MD. "I was nervous about the chemotherapy, but had no nausea or any other side effects," says Brown.
In December 2018 Langan performed a subtotal pancreatectomy, removing 70 percent of Brown's pancreas. The tumor was 4 cm in size. "We try to leave behind a portion of the pancreas if we can, because it has to produce insulin and other substances needed in digestion," notes Langan.
In the operating room he discovered that Brown had what's referred to as an aberrant anatomy. "A major blood vessel supplying blood to the liver was in an aberrant position, meaning it was not where it is usually found," he says. "This actually was helpful. It enabled us to leave this vessel in place and remove other blood vessels safely."
Assisting in the operating room was H. Richard Alexander, Jr., MD, FACS, chief surgical officer and division chief of surgical oncology at Rutgers Cancer Institute and professor of surgery at Rutgers Robert Wood Johnson Medical School. "With such a complex, technical operation, our philosophy is to do it the best and safest way possible," says Langan. "Typically that means bringing in your surgical partners at times. Having two very experienced surgeons working together is a huge advantage for patients. In this case the results speak for themselves: her resection was margin-negative and safe."
The following day Brown was amazed to find that she had no pain at all. "God was on my side," she says. "He got me through this procedure safely, with little discomfort."
Pain management is high on Langan's priority list. One of his first initiatives was modification of a hospital protocol titled Enhanced Recovery After Surgery (ERAS) for pancreatic cancer patients. From before to after surgery, ERAS protocols standardize care to minimize postoperative pain, reduce complications, and expedite recovery. "This is in the domain of highly specialized centers," he says. "As part of this protocol, anesthesiologists administer a TAP block: numbing medication applied within the abdominal wall. It dramatically eases pain. Patients are up and around more quickly and generally have a shorter hospital stay without the use of epidurals."
After six days in the hospital, Brown went home. With the presence of a few positive lymph nodes, her cancer was categorized as a stage IIB, so she had several more rounds of chemotherapy, followed by five weeks of radiation therapy.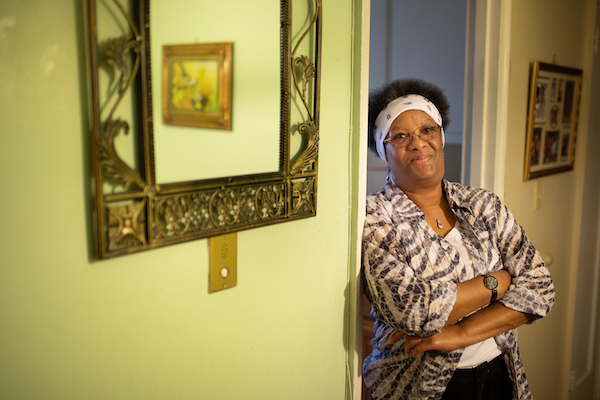 Now a little more than a year after her operation, Patricia Brown remains disease-free and says she is feeling great. "I'm beyond grateful for the wonderful care I received at Rutgers Cancer Institute and Saint Barnabas Medical Center."
One result of her lifesaving surgery is that she is now a diabetic. "It's been a bit of an adjustment," she admits. "Funny enough, I now have a sweet tooth, which I never had before. I avoid sweets and manage my diabetes through careful eating and medication." She takes an insulin pill and gives herself one injection each evening before going to bed.
Now a little more than a year after her operation, Brown remains disease-free and says she is feeling great. She is back to doing most of the activities she enjoys: spending time with her family, going to the movies, and taking long walks in the park. "I love walking outdoors, looking at nature," she says. "But enough is enough! I'm ready to go back to work. The job search begins as soon as I'm at full strength."
Langan believes Brown's chances of improved long-term survival are very good:
"We used modern systemic therapy before surgery, safely performed an aggressive operation, got her discharged quickly, and gave her chemotherapy and radiation therapy. She had state-of-the-art care."
Says Brown: "I'm beyond grateful for the wonderful care I received—and I look forward to seeing my grandchildren grow up."