Story by Mary Ann Littell  •  Portraits by John O'Boyle         View the complete magazine | Subscribe to Cancer Connection
Twelve years ago was a turning point in Ruth Hansen's life. It's when her health changed dramatically – and not for the better.
She lists the problems that suddenly popped up: "I developed diabetes, high cholesterol and hypertension. I began gaining weight too. My face swelled and turned very red. Emotionally, I struggled with anxiety, mood swings and depression. Why was this happening?"
Up to this point she'd been a strong, vibrant, woman who happily worked long hours at a job she loved, with plenty of energy left over. It was almost as if someone had flipped a switch in her body, creating havoc with her health.
"I'm a person who always looks on the bright side, but I can't sugar-coat how I was feeling," says Hansen. "It's been a bit rough."
Through it all, Hansen, a petite strawberry blonde who looks younger than her 60 years, soldiered on. She's worked at global storage company Iron Mountain for 25 years, handling reams of records and data and helping to manage the company's East Brunswick campus. As a single parent she raised her three kids on her own, and now she dotes on her seven grandchildren. "I spend as much of my free time with them as I can," she says. "But a lot of things that used to be easy for me became a struggle."
From 2016 to 2018 Hansen had three operations: stomach surgery to correct a digestive problem, and surgery on both shoulders to repair rotator cuff and bicep injuries. The surgeries seemed to make her worse. "My need for insulin skyrocketed," she notes. "I went from one insulin shot a day to five, and had to test my blood ten times a day. I felt like a pincushion! My face swelled even more, my chest and face were bright red, and I got big, horrible red blood spots all over my arms."
A comment by her youngest grandson prompted her to seek help. "I was hugging him and he said, 'Grandma, you have scary arms!' That was it. I had to find out what was wrong."
Hansen saw her primary care physician, who referred her to a hematologist. Hansen saw him in November 2018. "He read my records, did a thorough exam and said, 'You have Cushing's. We'll do the tests to confirm it, but I'm sure that's what it is.' I was shocked. I'd never heard of this disease."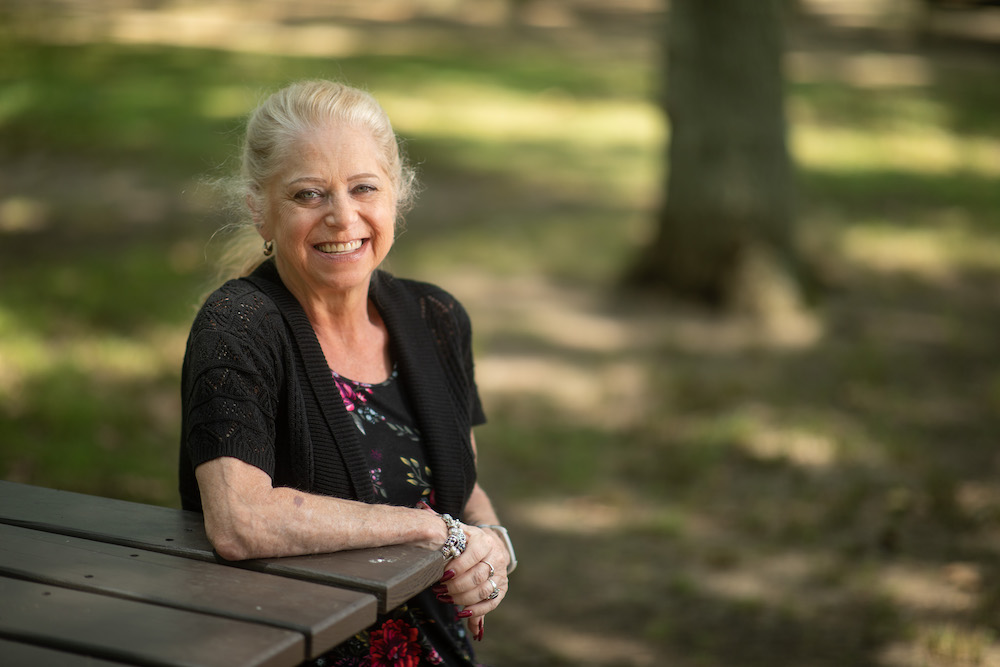 Ruth Hansen
Cushing's syndrome is so unusual that it's listed with the National Organization for Rare Disorders. It is caused by overexposure to cortisol, a hormone produced by the body's two adrenal glands. Cortisol affects tissues and organs throughout the body, regulating blood pressure, blood sugar and other important processes. It's also the body's main stress hormone.
A healthy balance of cortisol is essential to keeping the body's organs and systems working smoothly. Too much cortisol production, or too little, can create serious health challenges. It's the Goldilocks effect – everything has to be 'just right.' An excess of cortisol in the blood causes diabetes, hypertension, memory problems, depressed immune function, anxiety and depression, many of the problems plaguing Hansen. Clearly, she was a long way from 'just right.'
"The hematologist said I had a mass on my adrenal gland, and it was probably the cause of my Cushing's syndrome," says Hansen. "It had been there for awhile, since it's visible on scans I had in 2004. I don't remember anyone ever telling me I had a tumor – but Cushing's affects your memory, so it's entirely possible that I forgot." Now that the diagnosis of Cushing's was made, the cause of her other health problems became more clear, so the tumor would have to come out.
Hansen was referred to Amanda Laird, MD, FACS, chief of endocrine surgery at Rutgers Cancer Institute of New Jersey, the state's only National Cancer Center-designated Comprehensive Care Center. This designation is given to the top centers in the U.S. that meet rigorous standards for innovative research and leading-edge patient care.
Fellowship-trained in treating endocrine tumors of the thyroid, parathyroid glands, and adrenal glands, Dr. Laird sees many complex cases such as Hansen's. She leads Rutgers Cancer Institute's Endocrine and Neuroendocrine Tumor Program, which takes a multidisciplinary approach to treating these unique tumors, both malignant and benign.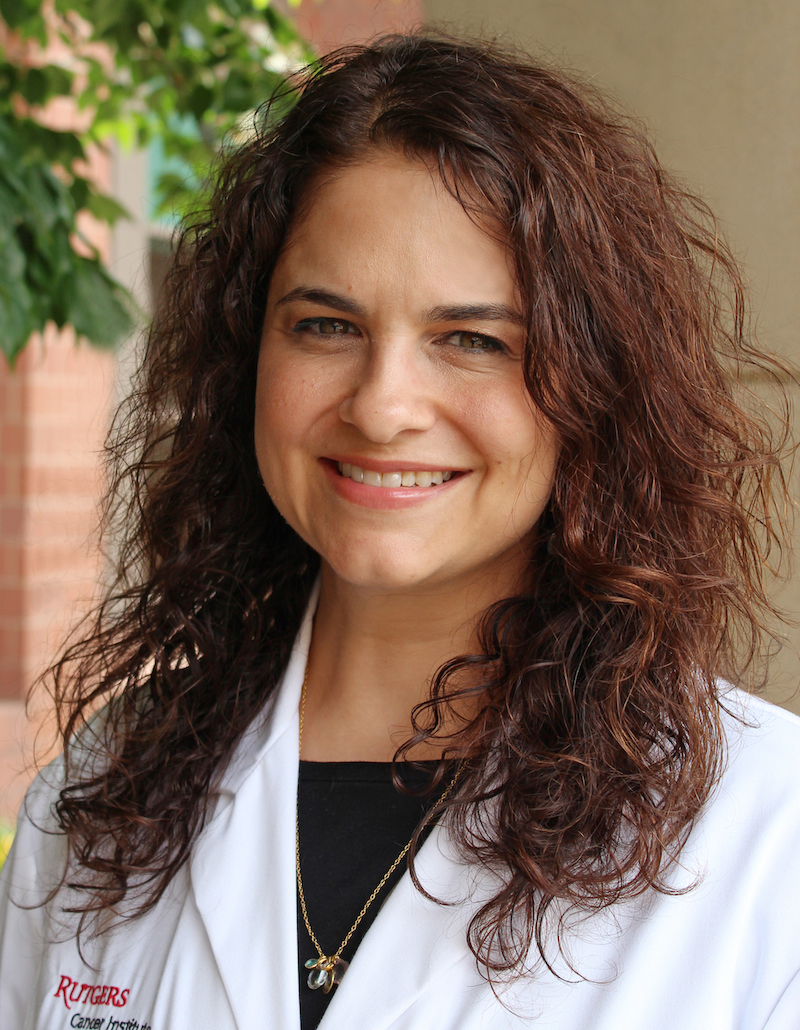 "Patients with Cushing's syndrome, like Ruth Hansen, come in overwhelmed by a whole host of disorders that they've usually been dealing with for years," says Amanda Laird, MD, FACS (above), chief of endocrine surgery at Rutgers Cancer Institute of New Jersey. "The good news is that we can identify a single cause. Once we correct it, the health problems are more manageable and the patient's quality of life greatly improves."
"Having a cortisol-producing tumor in the adrenal gland is the rarest type of Cushing's," explains Laird, who is also an associate professor of surgery at Rutgers Robert Wood Johnson Medical School. "Most doctors never see them, but we get about five or six cases a year. That might not sound like a lot. However, when you consider the very small number of patients with Cushing's – only 10 to 15 per one million people – these numbers are significant."
The fact that Hansen's tumor produced cortisol made it highly suspicious for cancer. However, the years of CT scans showed that the tumor had only minimally changed in size, making a diagnosis of cancer unlikely.
Laird's treatment plan was laparoscopic adrenalectomy, minimally invasive removal of the adrenal gland and tumor. This procedure must be carefully managed, because removal of the gland has an immediate and potentially serious effect on body chemistry. The adrenal gland with the tumor is 'turbo-charged:' it's taken over production of all the cortisol, while the other gland hasn't had to make any. When the affected gland is removed, the remaining gland has to step up and start producing. Studies have found that it can take a year or more for normal cortisol production to resume.
"Patients having this surgery must take steroids that are similar to cortisol," explains Laird.  "Steroid management is a highly complex part of this treatment. Our medical team has a lot of skill and experience with this and we know what to expect."
"I had total faith in Dr. Laird and could not wait to get this behind me," says Hansen. "She was pretty confident that this surgery would help fix my health problems, but of course there were no guarantees."
Hansen's surgery was performed in February 2019 at Robert Wood Johnson University Hospital in New Brunswick, an RWJBarnabas Health facility. Just as anticipated, when the gland was removed Hansen's glucose levels dropped rapidly. Endocrinologist Anupa Sharma, MD, part of the multidisciplinary team, was right there to treat it. "This drop in glucose was a positive sign that the diabetes was a result of the Cushing's," says Laird. "So we were encouraged that her diabetes and other problems would improve post-surgery."
Those first few days were challenging, with many fluctuations in blood sugar that needed to be carefully managed. "Because the endocrinologist was on our faculty, she was able to see Ms. Hansen in the hospital," says Laird. "We all worked together to make sure her medications were adjusted the right way before her discharge." A biopsy of the tumor confirmed that it was benign.
Hansen recuperated at home for four weeks. "I felt miserable that first week," she says. "As small as the incisions were, there were four of them and I did have some discomfort. But now I am feeling fantastic, better than I have felt in years."
Now several months post-surgery, Hansen is back to work and spending time with her family, cheering on her grandchildren at their soccer and baseball games. "I've lost 21 pounds. What a relief that is," she says. Her facial swelling and blood spots have resolved. She's regained her emotional equilibrium too. "Honestly, I'm on cloud nine. I'm happy and laughing again – not depressed or anxious anymore. My friends and family all tell me how wonderful the change in me is. It's great to feel like my old self again."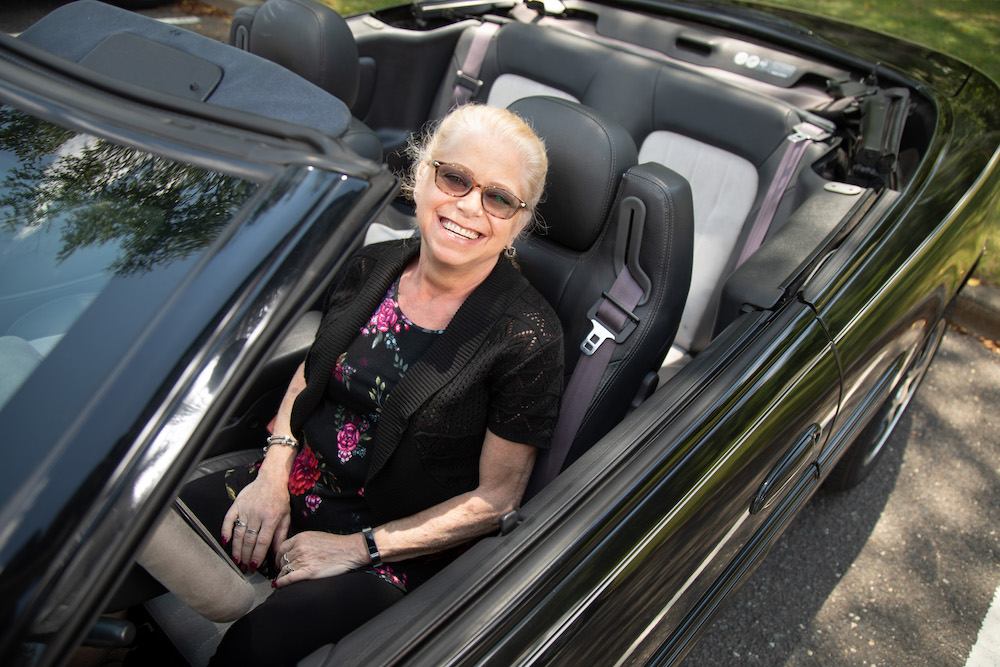 Now several months post-surgery, Ruth Hansen is back to work and spending time with her family, cheering on her grandchildren at their soccer and baseball games. "Honestly, I'm on cloud nine. I'm happy and laughing again — not depressed or anxious anymore. My friends and family all tell me how wonderful the change in me is. It's great to feel like my old self again," she says.
Her hormone therapy continues to be carefully calibrated and she'll be on it until the end of the year. "This therapy has to regulate the body's normal variation in cortisol production, so patients cannot miss a dose," explains Laird. "This can be tricky. For instance, the body makes more cortisol in the morning than the evening, so patients need higher doses in the morning than the evening."
Hansen's hypertension and cholesterol levels are greatly improved. She's gone from five blood pressure medications to two. But the best news of all is the tremendous improvement in her diabetes, which is now under control with only one injection a day. "My glucose levels are so close to normal that the doctors say there's a very good chance I'll be able to stop taking insulin," she says.
"I can't say enough about the care I received at Rutgers Cancer Institute," Hansen continues. "With all my problems, it was a relief to know that my doctors were all part of the same health system. Everyone communicated well and had access to my records, and I really benefitted from this team approach."
"Cushing's patients come in overwhelmed by a whole host of disorders that they've usually been dealing with for years," sums up Laird. "The good news is that we can identify a single cause. Once we correct it, the health problems are more manageable and the patient's quality of life greatly improves."
"I can't believe one little tumor caused all these issues," says Hansen. "But now everything feels 'just right.'"