Adrienne Phillips, MD, MPH, begins role at Rutgers Cancer Institute of New Jersey and RWJBarnabas Health  
New Brunswick, N.J., August 14, 2023 – Rutgers Cancer Institute of New Jersey and RWJBarnabas Health have appointed Adrienne Phillips, MD, MPH, as director of Cell Therapy and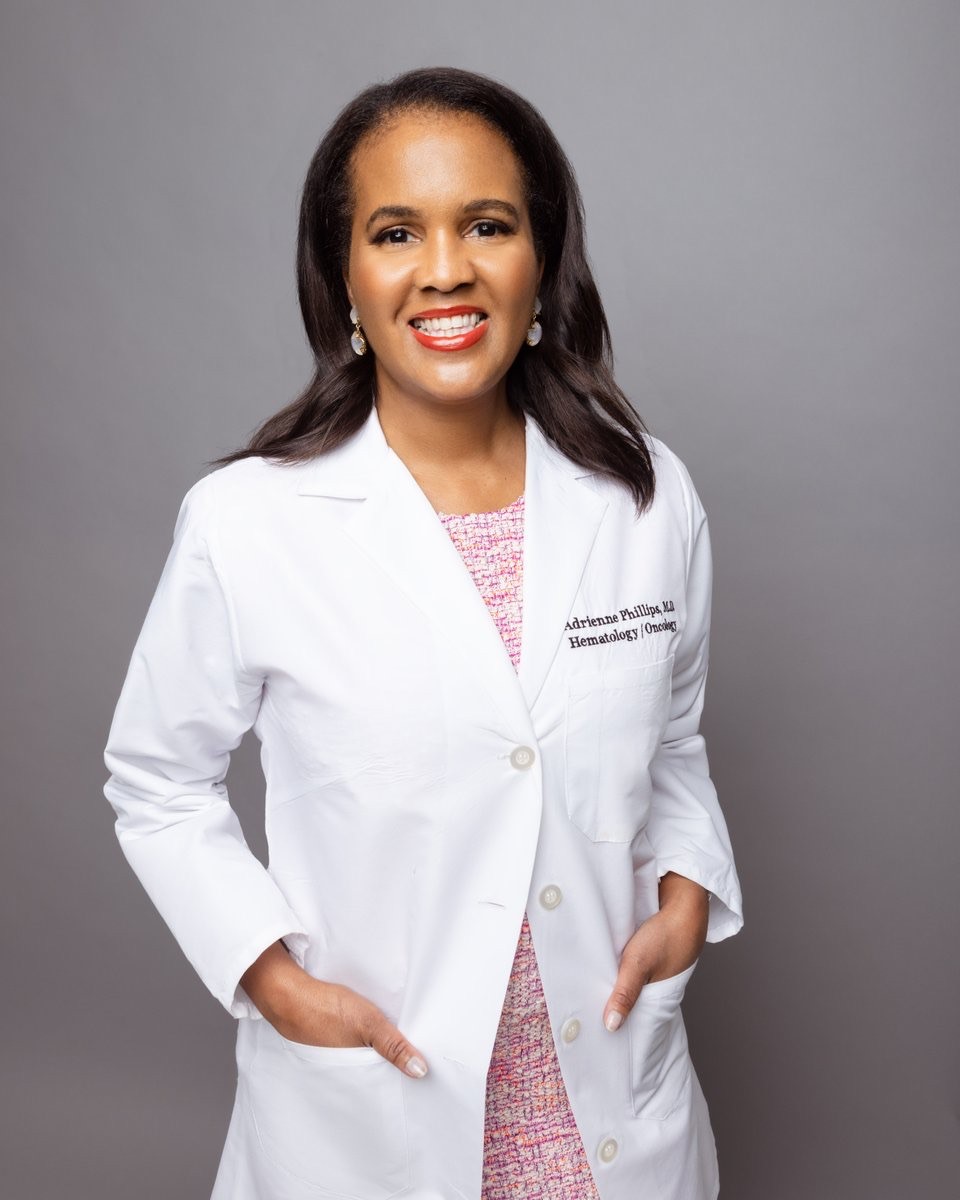 Bone Marrow Transplantation Northern Regions at New Jersey's leading cancer program and only National Cancer Institute (NCI)- Designated Comprehensive Cancer Center. Dr. Phillips is also an associate professor of medicine at Rutgers Robert Wood Johnson Medical School. She was most recently an associate professor of Clinical Medicine at Weill Cornell Medical College and associate attending physician at the New York-Presbyterian Hospital.  
Dr. Phillips joins the Blood and Marrow Transplant and Cellular Therapies Program  at the Rutgers Cancer Institute and will lead the cell therapy program in the northern regions which includes Cooperman Barnabas Medical Center, Newark Beth Israel Medical Center, Clara Maass Medical Center, Trinitas Regional Medical Center, RWJUH Rahway, and Jersey City Medical Center. The Program offers blood and marrow transplants for patients with acute and chronic leukemias, myelodysplasia, various types of lymphoma, Hodgkin disease, multiple myeloma, amyloidosis and related diseases. The program, is the only such program in New Jersey that is part of a National Cancer Institute-designated Comprehensive Cancer Center and is one of the only programs in the state certified to perform autologous and allogeneic stem cell transplants. Phillips specializes in treating a rare, but very fast-growing and aggressive cancers caused by a virus called the human T-cell lymphotropic virus type 1 or HTLV-1. This cancer, HTLV-Related Adult T-Cell Leukemia Lymphoma (ATLL), disproportionally impacts Latino and Caribbean Americans, including immigrants and people whose families have come to the United States from Cuba, the Dominican Republic, Jamaica, Trinidad and Tobago, and Haiti. 
 "At Rutgers Cancer Institute and RWJBarnabas Health, our nationally recognized experts exemplify collaboration and are fueled by an unwavering focus on our patients and our mission," notes Rutgers Cancer Institute Director Steven K. Libutti, MD, FACS, who is also the senior vice president of oncology services at RWJBarnabas Health. "We are pleased to have Dr. Phillips join our team, whose expertise will not only strengthen our BMT and cellular therapy program and make these lifesaving treatments more accessible to people closer to home,  but will reflect our mission through her deeply compassionate and comprehensive care."  
"I feel fortunate to begin working with such a skilled and passionate team of specialists at New Jersey's only National Cancer Institute-designated Comprehensive Cancer Center," notes Phillips. "I am incredibly excited to be able to build on the Bone Marrow Transplant and Cellular Therapies team's strong tradition of excellence and expand this care to our Northern Region facilities to further the way we deliver compassionate care to the patients of New Jersey and beyond."  
Dr. Phillips received her undergraduate and medical degree with honors from Brown University. She received her Master of Public Health from Harvard University. She then received her internal medicine training at New York-Presbyterian/Columbia University Medical Center, where she also completed her fellowship in Hematology and Oncology. Then, at Weill Cornell Medicine in New York City, Dr. Phillips specialized in treating patients with HTLV-Related Adult T-Cell Leukemia Lymphoma (ATLL) through stem cell transplantation. She is also involved in clinical and translational research specifically dedicated to finding cures for ATLL, which has been presented nationally and internationally.  
Phillips has co-authored numerous publications in journals including Cancer, Journal of Blood Medicine, and Leukemia and Lymphoma. She has also served as an oncology consultant in Africa, the Caribbean and Latin America to share cancer treatment best practices, train physicians and provide updates and recommendations based on recent advances in the field. 
About Rutgers Cancer Institute of New Jersey 
As New Jersey's only National Cancer Institute-designated Comprehensive Cancer Center, Rutgers Cancer Institute, together with RWJBarnabas Health, offers the most advanced cancer treatment options including bone marrow transplantation, proton therapy, CAR T-cell therapy and complex surgical procedures.  Along with clinical trials and novel therapeutics such as precision medicine and immunotherapy – many of which are not widely available – patients have access to these cutting-edge therapies at Rutgers Cancer Institute of New Jersey in New Brunswick, Rutgers Cancer Institute of New Jersey at University Hospital in Newark, as well as through RWJBarnabas Health facilities. To make a tax-deductible gift to support the Cancer Institute of New Jersey, call 848-932-8013 or visit www.cinj.org/giving. 
For journalists – contact: 
Krista Didzbalis  
Media Relations Specialist  
732-507-8307 
krista.didzbalis@rutgers.edu 
For patient appointments/inquiries – contact: 
844-CANCERNJ (844-226-2376)