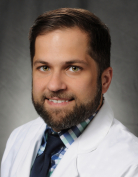 Neil D. Palmisiano, MD, MS
System Leader for Leukemia, RWJBarnabas Health
Deputy Director of Phase I Therapeutics for Hematologic Malignancies
Co-Medical Director of the Office of Human Research Services, Rutgers Cancer Institute
Having spent the last decade specializing in the care of patients with acute leukemias and myelodysplastic syndrome, I am excited and honored to bring my experience treating this patient population to Rutgers Cancer Institute of New Jersey as the System Leader for Leukemia at RWJBarnabas Health and Deputy Director of Phase I Therapeutics for Hematologic Malignancies and Co-Medical Director of the Office of Human Research Services.
I completed my residency and fellowship at Thomas Jefferson University in Philadelphia where most recently I served as Associate Professor of Medical Oncology as well as Co-Director of the Phase I Program for Hematologic Malignancies.
In these roles, I have developed and led a robust portfolio of clinical research in hematologic malignancies, with a focus on early phase drug development in leukemia and myelodysplastic syndrome.
The diagnosis of a new or relapsed blood cancer can be devastating for patients and families. Often times, hope in these situations comes in the form of promising new therapies leading to a greater chance of cure with fewer side effects. My clinical practice is dedicated to providing patients with the access to the most advanced and specialized care anywhere with the highest level of compassion and empathy.
Clinical Expertise
Acute Leukemias and Myelodysplastic Syndrome