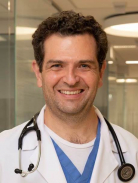 Missak Haigentz, Jr., MD
Medical Oncologist
Chief of Thoracic Medical Oncology
Chief of Head & Neck Medical Oncology
Professor of Medicine, Rutgers Robert Wood Johnson Medical School
Clinical Director of Oncology Integration, RWJBarnabas Health
Recent breakthroughs in cancer treatment offer tremendous hope in improving survivorship and quality of life. I view no patient case as routine, and individualized treatment plans (often incorporating immunotherapy and targeted therapies) are increasingly becoming standard practice. As a cancer physician, my mission is to empower you in selecting the best treatment approach, to provide expert cancer care for you, and to be your advocate.
My expertise is focused on the care of patients with thoracic cancer (including cancers of the lung and thymus, as well as mesothelioma) and head & neck cancers (including cancers of the mouth and throat, voice box, sinuses, salivary gland, thyroid and certain skin cancers). Cancer treatment is complex and often requires close collaboration with multiple physician specialists and other healthcare professionals to provide optimal outcomes – such multidisciplinary care and patient-centered teamwork is one of my professional career joys, and I'm excited to work with many talented colleagues across RWJBarnabas. I am also a strong believer in the benefits of access to the most innovative cancer therapies that come with clinical research studies, close to home. As New Jersey's only NCI-designated Comprehensive Cancer Center, the Rutgers Cancer Institute is uniquely positioned to rapidly translate advances in scientific research to the communities we serve.
A proud New Jersey resident for over 30 years, I received my medical degree at UMDNJ-New Jersey Medical School (now Rutgers). After completing residency training in internal medicine at New Jersey Medical School where I also served as chief medical resident, I received subspecialty fellowship training in hematology and oncology at the New York University School of Medicine. I have since served on the faculty of the Albert Einstein College of Medicine and have had national leadership roles in bringing high priority cancer research to people in their communities. It is an honor to serve on the faculty of the Rutgers Robert Wood Johnson Medical School and impact the future of cancer care in New Jersey.
Clinical Expertise
Thoracic cancer: Including cancers of the lung and thymus, mesothelioma
Head & neck cancers: Including cancers of the mouth and throat (oral cavity, oropharynx and hypopharynx), voice box (larynx), nasopharynx and sinuses; salivary gland cancer, thyroid cancer and skin cancers of the head and neck