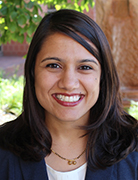 Miral Sadaria Grandhi, MD
Director of Hepatobiliary Surgery
Surgical Oncologist
I joined Rutgers Cancer Institute of New Jersey as a surgical oncologist and Rutgers Robert Wood Johnson Medical School as an Assistant Professor of Surgery in the Section of Gastrointestinal Surgical Oncology.  As a member of the Liver Cancer and Bile Duct Cancer Program as well as the Gastrointestinal/ Hepatobiliary Oncology Program at Rutgers Cancer Institute, I work in close collaboration with a multidisciplinary team of physicians, nurses and cancer support personnel to provide the most advanced and comprehensive care possible for our patients.  Exemplifying a strong sense of responsibility and dedication as a surgical oncologist, I am committed to providing exceptional, knowledgeable, and compassionate care for both the patient and their loved ones to result in the best possible outcomes.
My primary expertise lies in gastrointestinal surgical oncology with a particular focus in hepatopancreaticobiliary (liver, pancreas, and bile duct) surgery and gastric (stomach) tumors.  In addition, I am board certified and trained in the latest surgical techniques to these upper gastrointestinal malignancies, including both advanced laparoscopic and robotic techniques.  When utilized in the appropriate situation, these minimally invasive approaches can minimize recovery time, improve outcomes, and enhance the patient's perioperative experience. 
I completed my complex general surgical oncology fellowship at the Johns Hopkins Hospital where I received specialized training in pancreatic, hepatobiliary, and gastric tumors as well as minimally invasive approaches to these complex surgical procedures. Prior to fellowship, I completed my general surgery internship and residency at the University of Colorado Hospital Anschutz Medical Center.  During my time at the University of Colorado, I also spent two years in the basic science laboratory studying the development of esophageal cancer.  I completed my medical school education at Indiana University School of Medicine. 
Throughout my academic career, I have performed both basic science research and clinical research, resulting in multiple peer-reviewed publications, book chapters, and presentations at both national and local professional meetings.  Recognizing the importance of research in moving the field of oncology care forward, I plan on conducting clinical research on perioperative outcomes and quality of life measures, establishing institutional protocols, and developing clinical trials to further enhance the care of our patients.       

Meet Dr. Miral Sadaria Grandhi
.
Clinical Expertise
Pancreatic tumors, pancreatic cystic lesions, liver tumors, cancer metastatic to the liver, bile duct cancer, gallbladder cancer, gastric tumors, colorectal cancer, minimally invasive surgery (laparoscopic and robotic)
Honors
Winner of Robotic Skills Competition, Fellows Course in Robotic Hepatopancreaticobiliary Surgery and Intuitive Surgical daVinci Basic Training Course, 2015

2015 Fellows Symposium Attendee and Travel Scholarship Recipient, National Pancreas Foundation, 2015