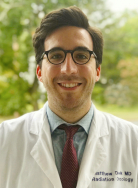 Matthew Pierre Deek, MD
Radiation Oncologist
Assistant Professor, Division of Clinical Radiation Oncology
Department of Radiation Oncology, Rutgers Robert Wood Johnson Medical School
I am a radiation oncologist who specializes in treating patients with lung and gastrointestinal tumors as well as in using radiation therapy to treat oligometastatic disease (patients with a few number of metastatic lesions). I completed my residency training in radiation oncology at the Johns Hopkins Hospital and returned to Rutgers University, the Cancer Institute of New Jersey, and New Brunswick, where I was born, raised, and completed medical school, to join the faculty. My many years of training has taught me the importance of providing the highest level of evidence based and compassionate care to patients and their families and implementing this in my clinical practice is a top priority for me. 
Additionally, I am actively engaged in research to improve the lives of my patients. My primary research interests have revolved around clinical and translational research in oligometastatic disease, lung, prostate, and bladder cancer. I have written multiple scholarly articles reporting our experience in treating oligometasatic disease as well as been involved in several clinical trials using stereotactic body radiotherapy (SBRT) in oligometastatic prostate cancer. My translational efforts have focused on (1) identifying and validating DNA mutational signatures to facilitate precision medicine approaches to treat patients with oligometastatic disease, lung, and pancreatic cancer and (2) studying the impact of the tumor immune microenvironment in patients treated with chemoradiation.
In addition to my clinical and research activities I am a member of American Society for Radiation Oncology (ASTRO) and NRG Oncology translational research committee, large professional societies that aim to improve cancer treatments at the national level. 
My ultimate goal is to ensure that every patient receives the highest, most cutting-edge, and compassionate care, uniquely tailored to each patients' individual needs, and I am committed to ensuring our team delivers this to every single one of our patient.
Clinical Expertise
Lung tumors, Gastrointestinal tumors, Oligometastatic disease, Stereotactic body radiotherapy (SBRT), Intensity modulated radiation therapy (IMRT), tumor genetics, precision medicine, clinical trials