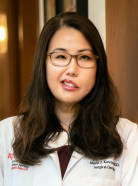 Maria Kowzun, MD, FACS
Director, Center for Breast Health and Disease Management, Clara Maass Medical Center
Surgical Oncologist
Assistant Professor of Surgery, Division of Surgical Oncology and Section of Breast Surgery
My desire to work in the medical field to impact lives occurred at an early age after multiple reconstructive plastic surgeries to restore facial symmetry for nerve damage due to a cystic hygroma resection at birth.
Following the completion of a breast surgical oncology fellowship at Rutgers Cancer Institute of New Jersey funded by the Breast Cancer Alliance and CR Bard, I joined the faculty at RCINJ as a breast surgeon. Prior to that, I received my undergraduate degree from Yale University and my medical degree from the John A. Burns School of Medicine at the University of Hawaii. I completed my general surgery internship with Beth Israel Deaconess Medical Center at Harvard University and my residency with Rutgers New Jersey Medical School in Newark NJ. I also participated in a two-year plastic surgery research fellowship with the Institute for Reconstructive Plastic Surgery at New York University.
As a breast cancer surgeon and specialist at New Jersey's only NCI-designated Comprehensive Cancer Center, I hope to provide the best possible breast care experience for our patients. I work closely with a strong multidisciplinary team of experts to help prevent, diagnose, and treat the various stages of breast cancer, ranging from early screen-detected cancers to metastatic disease, with access to the latest clinical trials. I also manage the spectrum of breast pathology for individuals with both benign and high-risk breast lesions. My ultimate goal is to offer my patients the best quality of care according to the most recent practice recommendations and surgical techniques with a caring and compassionate smile.
I also have an interest in research involving high-risk individuals with genetic predispositions to breast cancer, as well as global health issues through prior involvement with international medical missions in places such as Haiti, Thailand, South Africa, Fiji, and the Philippines.
I am a member of the American College of Surgeons, American Society of Breast Surgeons, Association of Women Surgeons, and the Society of Surgical Oncology.
Dr. Kowzun sees patients at Rutgers Cancer Institute and the Clara Maass Medical Center in Bellville.
Clinical Expertise
Breast cancer; breast conservation; oncoplastic techniques; nipple-sparing mastectomy; ductal carcinoma in-situ (DCIS); and clinical trials.