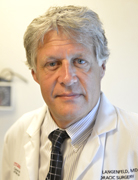 John Langenfeld, MD
Co-Director, Thoracic Oncology Program
Thoracic Surgeon
Since coming to Rutgers Cancer Institute of New Jersey and Robert Wood Johnson Medical School in 1999 I have devoted my career to improve the survival of patients with lung and esophagus cancers. Building on my clinical experience from Memorial Sloan-Kettering Cancer Center I have established a center of excellence to treat patients with thoracic malignancies. Our success has been from a collaborative effort with Robert Wood Johnson University Hospital to provide an outstanding thoracic surgery program, which includes superior nursing and a broad range of medical experts to assist in the care of patients. This team approach is reflected in our success and the positive experience of our patients.
I have also devoted myself to improve patient outcomes with ongoing research endeavors. Our center was part of a national trial, which demonstrated that CT screening for lung cancer improves survival in smokers. I have recently reported that low-dose steroids improve survival in patients who develop respiratory compromise after a pulmonary resection.
My laboratory identified that the bone morphogenetic protein 2 (BMP2), a protein expressed in embryos, is aberrantly expressed in the majority of lung cancers. The BMP2 protein enhances the growth, survival, and spread of lung cancers. My recent work suggests that novel inhibitors of this pathway represent potential new drugs to treat patients with lung cancers.
Clinical Expertise
Lung cancer, esophagus cancer, tumors of the chest wall, and mediastinum, achalasia, hyperhidrosis, and pectus excuvatum.
Honors
Top Doctor, New Jersey Monthly Magazine