Rutgers Cancer Institute of New Jersey Results Published in JAMA Network Open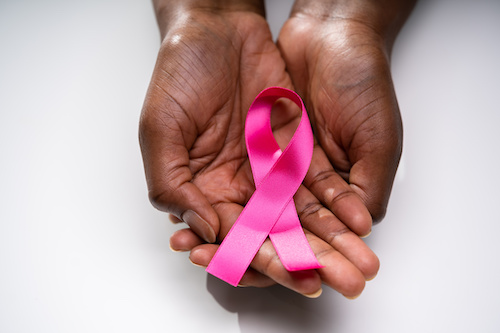 New Brunswick, N.J., January 24, 2023 – Investigators from Rutgers Cancer Institute of New Jersey, the state's only National Cancer Institute-designated Comprehensive Cancer Center, together with RWJBarnabas Health, found that a higher risk of mortality in Black breast cancer survivors is associated with a history of cigarette smoking along with regular alcohol consumption at the time of diagnosis. The work, led by Nur Zeinomar, PhD, MPH, associate member of the Cancer Prevention and Control Program at Rutgers Cancer Institute, along with senior author Elisa V. Bandera, MD, PhD of Rutgers Cancer Institute, Rutgers School of Public Health  and Rutgers Robert Wood Johnson Medical School, is published in JAMA Network Open (doi:10.1001/jamanetworkopen.2022.52371)
There is limited data about how lifestyle factors are associated with breast cancer prognosis in Black women, as the majority of evidence is based on studies in white breast cancer survivors. Maintaining a healthy lifestyle, which includes limited alcohol consumption and avoiding smoking, has been associated with improved survival following a breast cancer diagnosis (Li Q et al. Breast Cancer. 2022 Nov;29(6):957-966.). In this population-based cohort study of 1,926 Black breast cancer survivors, researchers found that those who smoked at the time of breast cancer diagnosis had a 52 percent increased risk for death due to any cause, compared with those who never smoked. This association was most pronounced for women with greater 'pack-years' of smoking and who regularly consumed alcohol, suggesting that smoking at the time of diagnosis is associated with a higher risk of mortality among Black breast cancer survivors, report the authors.
"Our findings add to the evidence of the detrimental health impacts of smoking and underscore the need of tailored and targeted survivorship care for breast cancer survivors, particularly Black women and those with heavier levels of smoking," notes Dr. Zeinomar, who is also an assistant professor of medicine at Rutgers Robert Wood Jonson Medical School. "According to the American Cancer Society, there is a 40 percent increased risk of death for Black women diagnosed with breast cancer compared to non-Hispanic white women, thus better understanding how these modifiable risk factors are associated with prognosis is important for clinical recommendations and management following a breast cancer diagnosis."
The authors note limitations of the study include limited information on cigarette smoking and alcohol consumption after diagnosis, as well as data on other types of smoking including passive smoking and e-cigarette use. Additionally, both alcohol consumption and smoking could potentially be underreported as both exposures in the study were based on self-reporting. The investigators say future studies should examine the role of continued smoking after a cancer diagnosis as well as smoking cessation in breast cancer survivorship.
Author acknowledgements, disclosures and other information can be found here.  

About Rutgers Cancer Institute of New Jersey 
As New Jersey's only National Cancer Institute-designated Comprehensive Cancer Center, Rutgers Cancer Institute, together with RWJBarnabas Health, offers the most advanced cancer treatment options including bone marrow transplantation, proton therapy, CAR T-cell therapy and complex surgical procedures. Along with clinical trials and novel therapeutics such as precision medicine and immunotherapy – many of which are not widely available – patients have access to these cutting-edge therapies at Rutgers Cancer Institute of New Jersey in New Brunswick, Rutgers Cancer Institute of New Jersey at University Hospital in Newark, as well as through RWJBarnabas Health facilities. To make a tax-deductible gift to support Rutgers Cancer Institute, call 848-932-8013 or visit www.cinj.org/giving. 
For journalists – contact: 
Krista Didzbalis  
Media Relations Assistant  
732-507-8307 
krista.didzbalis@rutgers.edu 
For patient appointments/inquiries – contact: 
844-CANCERNJ (844-226-2376)