New Brunswick, N.J., March 1, 2023 – Multiple myeloma is a cancer of white blood cells called plasma cells. These cells help us make antibodies to fight infection—an important role in the body's immune system function. With the right combination of therapies, many patients with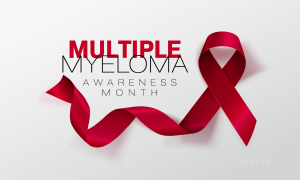 multiple myeloma can continue to live full lives. While there is no cure, treatment options for multiple myeloma are advancing quickly— immunotherapy, or treatments which harness the person's own immune system, are revolutionizing the way we treat multiple myeloma. Currently, immunotherapeutic approaches are being utilized for newly diagnosed patients, as consolidation or maintenance, and for relapsed or refractory disease. Mansi R. Shah, MD, hematologist-oncologist in the Multiple Myeloma Program at Rutgers Cancer Institute of New Jersey, shares more.   
What types of immunotherapies are available for multiple myeloma patients? 
Monoclonal Antibodies: These are laboratory-made antibodies that are designed to target specific proteins on the surface of cancer cells. 
CAR T-cell Therapy: This is a type of immunotherapy where T-cells (a type of immune cell) are taken from the patient and modified in a laboratory to target cancer cells. The modified T-cells are then infused back into the patient to attack the cancer cells. 
Bispecific antibodies: These are antibodies that target both myeloma cells and immune cells, bringing the immune cells near the cancer cells and enhancing their ability to kill them. 
   
What is the approach to treating multiple myeloma patients with these therapies?
The approach to treating multiple myeloma patients with immunotherapies depends on several factors, including the patient's individual characteristics, the stage and aggressiveness of the disease, and the type of immunotherapy being used. Some general considerations include combination therapy, patient selection, monitoring for side effects, patient education and ongoing-follow up.
Can you tell us a bit about clinical trials of immunotherapies for multiple myeloma being conducted currently?  
Multiple clinical trials are ongoing to evaluate the safety and efficacy of CAR T-cell therapy for multiple myeloma in earlier stages of the disease. Checkpoint inhibitors are drugs that help activate the immune system against cancer cells by blocking certain inhibitory signals. Clinical trials are also underway to evaluate the safety and efficacy of checkpoint inhibitors for the treatment of multiple myeloma. Learn about the open clinical trials for multiple myeloma at Rutgers Cancer Institute and RWJBarnabas Health. 
What is the benefit of receiving immunotherapy at a National Cancer Institute-designated Comprehensive Cancer Center like Rutgers Cancer Institute and RWJBarnabas Health? 
Rutgers Cancer Institute together with RWJBarnabas Health is at the forefront of cancer research and treatment and therefore provides access to the latest and most advanced therapies and clinical trials, including immunotherapies. As an NCI-designated Comprehensive Cancer Center, our researchers are dedicated to advancing the understanding of cancer and developing new therapies, including immunotherapies, for the treatment of cancer.

These treatments as well as well as CAR T-cell therapy and blood and marrow transplantation are available at RWJBarnabas Health and Rutgers Cancer Institute, the state's leading cancer program, and only NCI-designated Comprehensive Cancer Center.