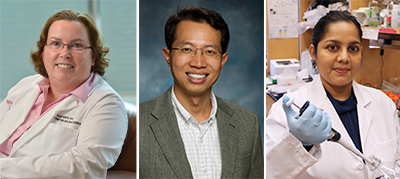 Research from investigators at Rutgers Cancer Institute of New Jersey examining the inner workings of a rare non-cancerous (benign) kidney tumor has revealed a mechanism to prevent this type of tumor from becoming cancerous (malignant). Rutgers Cancer Institute Associate Director for Basic Science Eileen White, PhD, distinguished professor of molecular biology and biochemistry in the School of Arts and Sciences at Rutgers, The State University of New Jersey, and Rutgers Cancer Institute Researcher Chang S. Chan, PhD, assistant professor of medicine at Rutgers Robert Wood Johnson Medical School, are the co-corresponding authors of the work just published in the journal Cell Reports (doi: 10.1016/j.celrep.2015.10.059). Shilpy Joshi, PhD, a research associate in Dr. White's laboratory is the co-lead author. They share more about the work.
Q: What prompted your interest in this rare, benign tumor type?
A: Much of the cancer genome sequencing effort is aimed at malignant tumors to identify mutations that cause cancer and their underlying mechanisms to guide therapy. Complementary to this effort we sought to identify what limits some tumors to benign disease.  To this end we sequenced 11 benign human renal oncocytoma samples.  Renal oncocytoma is a type of kidney tumor that is typically not cancerous but may have the ability to become malignant. The samples were characterized based on chromosome loss. 'Type 1' was designated as having no chromosome loss, while 'Type 2' samples were designated as having specific chromosome loss.
Q: What did you and your colleagues find?
A: The Type 2 oncocytomas with chromosome loss may progress to a subtype of malignant kidney cancer called eosinophilic chromophobe renal cell carcinoma (ChRCC).  In contrast, we found no evidence that Type 1 oncocytoma may progress to malignant disease.  These findings suggest that determining the subtype of oncocytoma is important, and patients with Type 2 should be followed more closely.
Q: What barrier did you discover that limited oncocytomas to benign disease?
Irrespective of the 'type,' oncoytomas showed genetic defects in the production of energy, due to mutations in the mitochondrial genome.  Mitochondria are the powerhouses of the cell and mutations that inactivate their function in these oncocytomas result in insufficient energy levels to support tumor progression, which explains their benign nature. Due to this lack of energy, oncocytomas display disruption of key cellular activities including cell waste disposal, and collection and distribution of proteins in the cell -- events attributed to defective mitochondrial function.
Q: What is the implication of this finding?
A:  This finding suggests the genetic defects in the mitochondria activate a barrier that impairs energy production, thus limiting tumor progression.  This reveals a novel tumor-suppressive mechanism and suggests that mitochondrial inhibitors like the diabetes drug metformin, which is currently being tested in the treatment of some cancers, may work this way. A breach of this barrier in Type 2 samples by a common mutation known as p53 may allow the benign tumor to progress to eosinophilic ChRCC. 
Q: Why is this research important?
A:  Benign tumors are localized and can be treated by removing from the body unlike malignant tumors that are aggressive and tend to spread in other parts of the body and can represent a lethal form of disease.  Mechanisms that restrict tumors to benign disease can inform approaches to cancer therapy.  This also suggests that inhibiting mitochondria with metformin may have anti-cancer activity in many different cancers.