Grant supports annual education event at Rutgers Cancer Institute of New Jersey
New Brunswick, N.J., July 1, 2019 – Anxiety and depression related to childhood cancer survivorship, as well as stress management, can be challenging for this population. That is why Rutgers Cancer Institute of New Jersey consistently educates pediatric cancer survivors about this and other topics through its LITE (Long-term, Information, Treatment effects and Evaluation) Program. Part of this education effort includes an annual Survivor's Family Education Night, which for the past four years received support through a 'Beyond the Cure' grant from the National Children's Cancer Society (NCCS). A $2,000 grant from NCCS supported the most recent event held last week.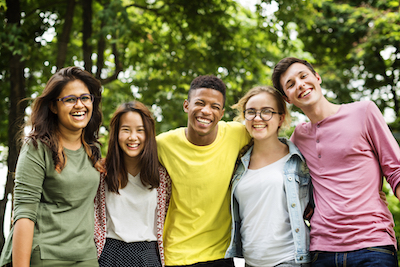 The LITE Program at Rutgers Cancer Institute provides long-term evaluation, support, and health education for the growing number of childhood cancer survivors. The program utilizes a multidisciplinary team approach to provide services for this population, including a pediatric hematologist/oncologist, advanced practice nurse, social worker, nutritionist, treatment nurses and access to medical specialists related to the management of long-term late effects.  Collaborating with experts from Rutgers Robert Wood Johnson Medical School, as well as Robert Wood Johnson University Hospital and Children's Specialized Hospital (both RWJBarnabas Health facilities), the LITE team also works with medical practitioners within the survivors' own communities.
"When pediatric cancer patients transition to survivorship they and/or their caregivers may be more focused on the physical late effects of cancer treatment and may not realize that symptoms of depression and anxiety could also be related.  Through our Survivor's Family Education Night, we have the ability to provide survivors and families with health information and strategies that benefit both physical and psychological wellbeing. We are grateful to the National Children's Cancer Society for its continued support of this effort," notes Rutgers Cancer Institute pediatric hematologist/oncologist and LITE Program Medical Director Margaret Masterson, MD, who is also an associate professor of pediatrics at Rutgers Robert Wood Johnson Medical School.
Based on participant feedback from last year's education night, this year's event focused on stress management, anxiety and depression with experts from various clinical departments at Rutgers University. Past programs have focused on such topics as cardiac late effects, physical fitness, nutrition, fertility, neurocognitive late effects and 504 school accommodations.
Ronke Babalola, MD, MPH, assistant professor of psychiatry in the Division of Child and Adolescent Psychiatry at Rutgers Robert Wood Johnson Medical School, discussed how to recognize signs of depression and anxiety related to survivorship, as well as increase awareness of evidence based treatments for depression and anxiety. Katie Devine, PhD, MPH, a population science researcher at Rutgers Cancer Institute who is also a licensed clinical psychologist, addressed how survivors can define stress and identify ways it impacts the mind and body. Dr. Devine, who is an assistant professor of medicine at Rutgers Robert Wood Johnson Medical School, also presented effective strategies for managing stress. A survivor panel discussion focusing on how both survivors and family members/caregivers can cope with the emotional issues of survivorship capped the event.
About Rutgers Cancer Institute of New Jersey
As New Jersey's only National Cancer Institute-designated Comprehensive Cancer Center, Rutgers Cancer Institute, along with its partner RWJBarnabas Health, offers the most advanced cancer treatment options including bone marrow transplantation, proton therapy, CAR T-cell therapy and complex robotic surgery.  Along with clinical trials and novel therapeutics such as precision medicine and immunotherapy – many of which are not widely available – patients have access to these cutting-edge therapies at Rutgers Cancer Institute of New Jersey in New Brunswick, Rutgers Cancer Institute of New Jersey at University Hospital in Newark, as well as through RWJBarnabas Health facilities.
Along with world-class treatment, which is often fueled by on-site research conducted in Rutgers Cancer Institute laboratories, patients and their families also can seek cancer preventative services and education resources throughout the Rutgers Cancer Institute and RWJBarnabas Health footprint statewide. To make a tax-deductible gift to support the Cancer Institute of New Jersey, call 848-932-8013 or visit www.cinj.org/giving.
###
For journalists – contact:
Michele Fisher, Public Relations Manager
732-235-9872
michele.fisher@rutgers.edu
For patient appointments/inquiries – contact:
732-235-8515