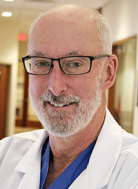 H. Richard Alexander, Jr., MD, FACS
Chief Surgical Officer,
Chief, Surgical Oncology, Rutgers Cancer Institute;
System Director of Surgical Oncology, RWJBarnabas Health;
Regional Director of Surgery for Monmouth Medical Center, an RWJBH Facility
I am a surgical oncologist, cancer researcher and, surgical educator. My roles as Chief Surgical Officer at Rutgers Cancer Institute of New Jersey and System Director of Surgical Oncology at RWJBarnabas Health have become the highlight of my career for several reasons. In particular is the opportunity to work with join a world-class organization and collaborate with  colleagues in the Gastrointestinal/ Hepatobiliary Oncology Program to further build and expand the portfolio of treatment and clinical research options for patients who may benefit from the surgical treatment of complex, rare, or recurrent cancers.
My surgical career started as a medical officer in the US Navy where I served aboard both the USS Mt. Whitney (LCC-20) and the USS Midway (CV-41).  After that I completed a fellowship in surgical oncology at the Memorial Sloan-Kettering Cancer Center in New York, I subsequently joined the Surgery Branch of the National Cancer Institute (NCI) where I eventually became a Deputy Director in the Center for Cancer Research.  At the NCI and during my subsequent tenure in the department of surgery at the University of Maryland School of Medicine, I led teams that developed internationally recognized clinical and research programs for patients with advanced primary, recurrent, or metastatic cancer. 
I have focused my clinical and research efforts to define and expand the application of surgical resection for properly selected patients with recurrent or metastatic gastrointestinal cancers. Specifically, I have a particular interest defining the role of surgical treatment in patients with peritoneal surface metastases from peritoneal mesothelioma, appendiceal cancer, colorectal cancer, and other tumors.   
Throughout my career my professional and academic successes have been built on a foundation of values that we all share in caring for our patients; compassion, communication, respect, teamwork, and a commitment to providing patients exceptional, thoughtful and timely surgical care in the context of a multidisciplinary treatment plan. To that end, I have always valued the partnerships that I have developed with other physicians who are invested in their patient's cancer treatment.
I am a Fellow of the American College of Surgeons, the American Surgical Association, the Society of Surgical Oncology, and an honorary member of the Royal College of Surgeons (Glasgow).  I have received numerous teaching awards and was the recipient of the National Institutes of Health Award of Merit in 2005.  I have served on the Executive Committee, Training Committee, and as chair of the Research Committee for the Society of Surgical Oncologists.  Next year I will complete my term as chair of the board for the Mesothelioma Applied Research Foundation.  I have published over 250 peer-reviewed articles and 50 book chapters and have lectured in 17 countries.  I currently serve on the editorial board of the journal, Surgery. 
Dr. Alexander sees patients at Rutgers Cancer Institute and Monmouth Medical Center. 
Clinical Expertise
Gastrointestinal cancers (gastric, pancreas, biliary, liver, and colorectal, and appendiceal cancers), peritoneal mesothelioma, esophageal cancer, metastatic or recurrent solid organ cancers, peritoneal surface metastases; endocrine and neuroendocrine tumors.