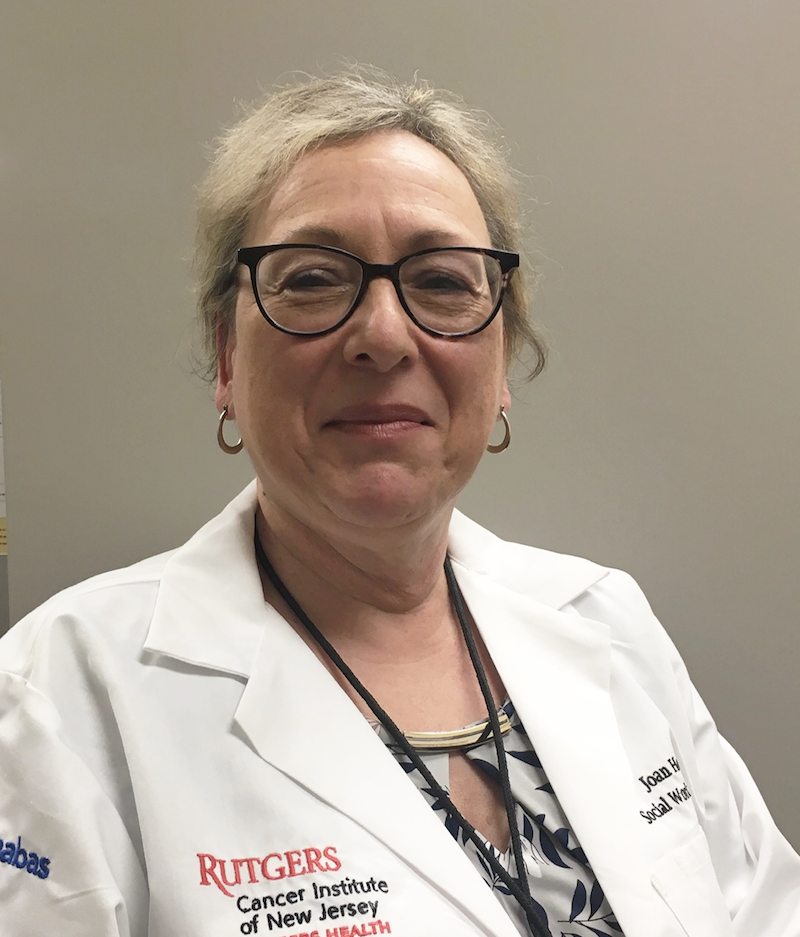 New Brunswick, N.J., March 17 2021 – Joan Hogan, MSW, LCSW, OSW-C, recently joined Rutgers Cancer Institute of New Jersey as Manager of Social Work Services, a specialized team that works closely with patients, families and caregivers in navigating the cancer journey.
With an expertise in oncology social work, Hogan came from Monmouth Medical Center and Monmouth Medical Center Southern Campus, both RWJBarnabas Health facilities, where she served as director of the Cancer Support Community Program. In her new role at Rutgers Cancer Institute, she will provide leadership and guidance to the social work staff and assist them in the care of their patients by utilizing evidence-based practices and interventions. She is currently a doctorate of clinical social work (DSW) candidate at Rutgers School of Social Work, where her research focus is oncology and the transgender patient experience.
 
What excites you the most about joining the team at Rutgers Cancer Institute?
My vision is to expand supportive programming through social work services at Rutgers Cancer Institute. I am excited to work with a team of exceptional and compassionate social workers, each covering a specific tumor group, to encourage and support their vision for an expanded program. Not only do oncology social workers help patients with practical needs, like finding resources in the institution and the community, but they provide educational programs and stress management initiatives, such as mindfulness meditation and guided imagery.
What are some of the most rewarding aspects of your experiences in oncology social work?
As oncology social workers, we are able to help people at one of the most vulnerable and stress-filled times in their lives. Being able to hold a safe space for patients and their loved ones is an important aspect of working in this field. The resiliency of patients always amazes me, even during the COVID-19 pandemic. We are proud to have maintained our connection with patients and their families during this past year and to have provided all of the services and resources that we normally do.
What should patients and their families know about social workers and their role in cancer care?
Patients and their loved ones should know that oncology social workers are available to them and are there to assist with a wide range of challenges that are influenced by facing cancer. In addition to concrete resources, patients can utilize our services in processing the myriad of emotions that accompany a cancer diagnosis.  We are also available to assist patients in addressing questions and concerns with their doctors, offer guidance in discussions about their diagnosis with children and loved ones, and help patients to navigate end of life discussions.
Learn more about social work services provided at Rutgers Cancer Institute:  https://www.cinj.org/patient-care/social-work-services.
For journalists – contact:
Krista Didzbalis 
Media Relations Assistant 
908-812-6114
krista.didzbalis@rutgers.edu
 For patient appointments/inquiries – contact:
844-CANCERNJ (844-226-2376)