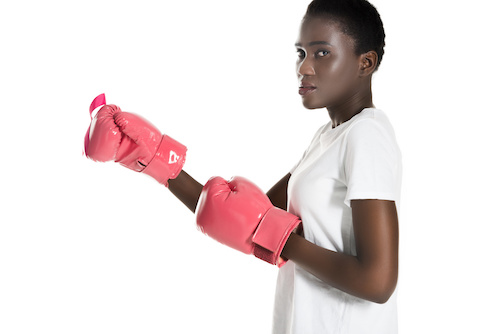 New Brunswick, N.J., October 8, 2020 – Triple-negative breast cancer (TNBC) is a subtype of breast cancer that is aggressive by nature with a complex biology. Studies have shown a high prevalence of triple-negative breast cancer among younger African American women and those of African descent. Coral Omene, MD, PhD, medical oncologist at Rutgers Cancer Institute of New Jersey whose clinical expertise focuses on triple negative breast cancer and other forms of breast cancer, translational research and clinical trials, shares more on this topic.
What is triple negative breast cancer?
TNBC does not possess the estrogen receptor, progesterone receptor, and human epidermal growth factor 2 receptor. Most breast cancers are classified by these three proteins, which guides treatment management. Since triple-negative breast cancer does not have any of these receptors, it tends to be more challenging to treat. Women with TNBC have a high frequency of metastasis to the lungs, liver and brain leading to poor survival. Compared to other subtypes of breast cancer, there has been a lack of effective therapies, resulting in a poor prognosis. This is particularly true for young African American women and women of African descent.
Can you explain more about the high prevalence of TNBC in African American women?
Not only is there a higher prevalence of TNBC in these women, they tend to present at a more advanced stage. Notably, compared with other subtypes, they have different risk factors for this disease. For instance, younger age, premenopausal status, having more children, not breastfeeding or shorter duration of breast feeding, and obesity are all risk factors. Interestingly, most of these are typically the opposite of the risk factors associated with developing breast cancer. The increased risk for this population as well as for women of African descent (in particular from West Africa and sub-Saharan Africa) suggests genetic components of geographically defined African ancestry may be associated with hereditary susceptibility for specific patterns of breast cancer development. There are multiple factors besides presenting to the clinic at a more advanced stage that contribute to worse clinical outcomes for African American women with this disease. They include health care access barriers, one or more underlying medical conditions, income disparities and experiences of societal inequality.
What is some of the latest research you are exploring on this topic?
There has been ongoing research in this area at Rutgers Cancer Institute of New Jersey from multiple investigators. To highlight a few areas of personal interest, I have been working on a translational project modifying the risk for developing triple negative breast cancer in a TNBC mouse model. Currently, in collaboration with several researchers at Rutgers Cancer Institute, I am investigating the alterations in the genomic landscape of African American Women with TNBC and investigating the association of obesity in these women and responses to therapy. I am also a member of the Center for Cancer Health Equity in partnership with the Rutgers School of Public Health which works to evaluate clinical trial enrollment, address catchment area burden and foster catchment area and disparities research.
Why is this topic important to explore?
It is essential that we understand the potential molecular mechanism(s) by which biology and disparities may interconnect to result in aggressive TNBC development in African American women. This may lead to the development of models that determine specific risk, increase access to early detection, care and clinical trial participation, in addition to the implementation of health policies to eliminate disparities.
Resources
The Carolina Breast Study; Women's Circle of Health Study, Newman and Kaljee, JAMA Surg 2017; Dietze E et al., Nature Reviews, 2015; Xing CY et al, Cancer Epidemiol Biomarkers Prev, 2020.
For journalists – contact:
Krista Didzbalis 
Media Relations Assistant 
908-812-6114
krista.didzbalis@rutgers.edu

For patient appointments/inquiries – contact:
844-CANCERNJ (844-226-2376)