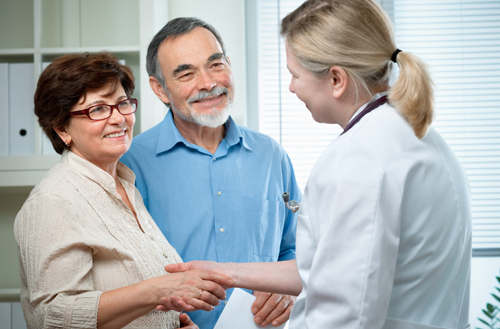 New Brunswick, N.J. - Colorectal cancer is the third leading cancer in both new cases and cancer deaths in the United States.  While colorectal cancer incidence declined 3.7 percent annually from 2006 to 2015 for those 55 and older, rates have increased 1.8 percent annually for those younger than age 55, according to the American Cancer Society.  Therefore, there is still a lot of work to be done.  There are several ways to reduce one's risk of developing colorectal cancer or to detect it early for optimal treatment. 
Along with maintaining a balanced diet and engaging in regular physical activity, screening for colorectal cancer is important. Colorectal cancer usually does not cause any symptoms until it is advanced and starts to spread through the body. If diagnosed at a later stage, the disease can be more challenging to treat and cure. If detected early, colorectal cancer can be treated more effectively.
General guidelines recommend those at average risk for the disease begin screening at age 50; however, earlier testing may be suggested for those who have at least one family member with the disease or other risk factors.  In these situations, individuals should speak to their doctor about the screening option that is best for them.   A colonoscopy can check for existing cancers and also identify and remove precancerous polyps. Another option is the non-invasive fecal immunochemical test (FIT) that examines hemoglobin in the stool that does not require the type of preparation (liquid diet, laxative treatment) that a colonoscopy does. Other screening tests are also available.
To increase screening awareness, ScreenNJ was developed under the leadership of Rutgers Cancer Institute of New Jersey in partnership with the New Jersey Department of Health. The initiative is a collaboration of organizations across the state committed to reducing cancer incidence and mortality through outcomes-oriented, evidence-based cancer prevention and screening programs. The public can utilize this resource (www.screennj.org) to find local colorectal (as well as lung) cancer screening programs and information about the types of testing and benefits.
Nearly half of patients who have colorectal cancer have disease that spreads to their liver, and surgery is ineffective for these patients. At Rutgers Cancer Institute, we are helping develop new treatments for this population through clinical trials including one such study exploring two immunotherapy treatments. One is an anti-cancer vaccine first examined at Rutgers Cancer Institute some years ago with encouraging results. This vaccine has since been improved to further boost one's immune system to attack the cancer.  In this trial we are treating those patients whose metastatic tumors can be removed surgically.  We are combining this vaccine with an immunotherapy drug already approved for metastatic melanoma and lung cancer. When given to patients following surgery to remove metastatic disease, this combined treatment may improve the effectiveness of the surgery and prevent the cancer from recurring.
Other trials for colon cancer patients with advanced disease who are no longer responding to standard treatment include a novel immunotherapy antibody (monalizumab) with other antibodies, combining two standard chemotherapy drugs in a new way (TAS-102 and oxaliplatin), testing a targeted therapy oral agent (cabozantinib) alone and with immunotherapy antibodies. 
Whether through screening awareness, the offering of innovative treatments or the development of new therapies, Rutgers Cancer Institute, in partnership with RWJBarnabas Health, remains a statewide resource in advancing our understanding about colorectal cancer. To learn more, visit www.cinj.org/patient-care/adult/gastrointestinal and www.rwjbh.org/colonscreening.
Howard S. Hochster, MD, FACP, is the Associate Director for Clinical Research and Director, Gastrointestinal Oncology, Rutgers Cancer Institute of New Jersey; and Director of Oncology Research, RWJBarnabas Health.
###
For journalists – contact:
Michele Fisher, Public Relations Manager
732-235-9872
For patient appointments/inquiries – contact:
732-235-8515