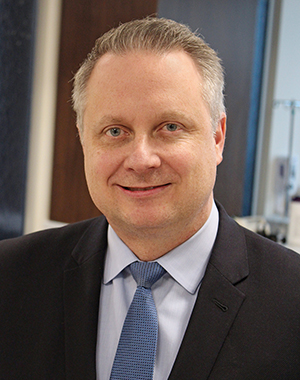 New Brunswick, N.J. – For the past seven years, the U.S. Food and Drug Administration has reported on cases of a type of lymphoma associated with breast implants.  Earlier this month, the FDA noted a rise in the amount of these cases over the past year – 414 cases – up from 359 in the previous year.  Andrew M. Evens, DO, MSc, FACP, director of the Lymphoma Program and associate director for clinical services at Rutgers Cancer Institute of New Jersey, and medical director of the oncology service line at RWJBarnabas Health, shares some insight.
Q: The disease in question is called breast implant-associated anaplastic large-cell lymphoma.  What can you tell us about it?
A:  The first case of breast-implant associated (BIA) anaplastic large cell lymphoma (ALCL) was reported in 1997. ALCL is a peripheral T-cell lymphoma (PTCL).  PTCL is a T-cell lymphoma, which are generally uncommon types of non-Hodgkin lymphoma.  Of all non-Hodgkin lymphomas, approximately 15 percent are T-cell.  Among these 15 percent, there are approximately 12 different types of T-cell lymphomas, of which ALCL is one. Generally speaking, ALCL is an aggressive form of non-Hodgkin lymphoma, but it is treatable and potentially curable.
Q: The FDA notes while not conclusive, this type of lymphoma is more likely to occur in women who have implants with a textured coating.  What do you know about this association?
A:  Initial reports of the association of BIA-ALCL were reported as an 18-fold risk of ALCL in women who had breast implants versus those who did not. In a recent updated Dutch analysis, the number of women with implants needed to cause one breast-ALCL case before age 75 years was 6,920.  In addition, among patients who develop BIA-ALCL, approximately 80 percent occur with macrotextured implants versus smooth implants.  The presumed factors involved in the development of lymphoma are a local inflammatory reaction to the breast implant materials.
Q: What are some misconceptions surrounding this issue?
A: Lymphoma often occurs in the lymph nodes and blood; however, it may occur anywhere in the body, including the breast.  The most common cancer to occur in the breast is "breast cancer;" however other cancers, such as lymphoma, may rarely involve the breast as well as many other locations in the body (e.g., brain, skin, stomach, liver, etc.).   Additionally, even though there is a slightly increased risk of lymphoma in patients who have breast implants, lymphomas may involve the breast in patients without implants too.
Q: The FDA cites current literature that estimates breast implant-associated anaplastic large-cell lymphoma may develop in 1 in 3,817 to 30,000 women with textured implants. What do women considering implants need to be aware of with regard to this issue?
A:  There are a number of locations with sources of information including the FDA. It is important to highlight that despite the association of breast implants with ALCL, the frequency of this occurring is uncommon.  Any unexplained symptoms such as a lump, pain, and/or redness of the breast should be examined further by a healthcare provider. Further workup including mammogram, MRI, PET scan and possible biopsy may be needed to determine the exact cause of symptoms.  In addition, patients with low levels of localized BIA-ALCL may be managed potentially with surgery alone while more disseminated cases may warrant chemotherapy for treatment.  Overall, survival rates are very good for BIA-ALCL. 
For journalists – contact:
Michele Fisher
Media Relations Specialist
732-235-9872
michele.fisher@rutgers.edu

For patient appointments/inquiries call 732-235-8515.