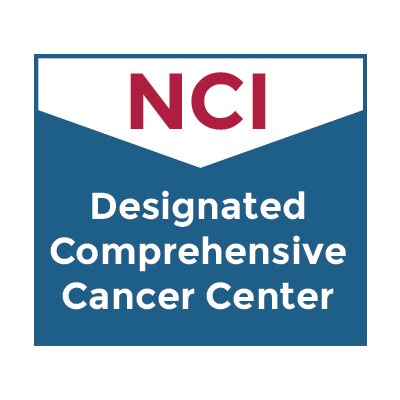 Established in 1991, Rutgers Cancer Institute of New Jersey is the state's only National Cancer Institute-designated Comprehensive Cancer Center – a designation reserved for those cancer centers who meet the highest of standards in research, treatment, prevention and education and are successful in completing a rigorous review process every five years. View the complete list of all NCI-designated Cancer Centers.
In partnership with RWJBarnabas Health, Rutgers Cancer Institute offers the most advanced cancer treatment options including immunotherapy, precision medicine, bone marrow transplantation, proton therapy, CAR T-cell therapy, and clinical trials - many of which are not available at other facilities across the state.
What is a Comprehensive Cancer Center as designated by the NCI?
The prestigious Comprehensive Cancer Center NCI designation, held by only an elite group of such centers across the nation, is granted competitively to institutions characterized by the highest level of scientific excellence in cancer research and the ability to translate scientific discoveries into novel treatments. NCI Comprehensive Cancer Centers also have a responsibility to educate the public and healthcare professionals and provide outreach to underserved populations.
These centers may be freestanding organizations, aligned with an academic institution or aligned with other institutions as part of a consortium. In 2020, construction began on a freestanding cancer pavilion that will house research, clinical and other key areas of Rutgers Cancer Institute.
Through the transformation of laboratory discoveries into clinical practice, a team of internationally recognized physicians and researchers target cancer with precision medicine, immunotherapy and clinical trials at Rutgers Cancer Institute and provide the most advanced, comprehensive, and compassionate world-class cancer care to adults and children. This mission is being accomplished in partnership with RWJBarnabas Health.
In addition to research and the ability of Rutgers Cancer Institute to translate investigative work into novel therapies, the NCI in its most recent comprehensive on-site review also recognized the Institute's prevention, education and outreach efforts.
How does the NCI Comprehensive Cancer Center designation impact research and new treatments?
The NCI allows designated Cancer Centers to formally establish research consortia with institutions that have strengths in particular areas but may not have the depth and breadth of capabilities to become independently designated. Currently, 16 such research consortia are approved by the NCI.
Aiming to address the cancer burden that impacts New Jersey and beyond, Rutgers Cancer Institute collaborates with Princeton University, which is one of the 16 NCI-approved research consortia partners.  
As a result of this relationship, scientific advances in the areas of cancer metabolism, the spread of cancer and genomics have contributed to impactful clinical progress in areas such as precision medicine and immunotherapy, and serve as a foundation for the development of future innovative cancer therapies.
What is a Consortium Cancer Center?
A Consortium Cancer Center is a designation given to an NCI-designated center and a non-designated partner that may not have the breadth and depth to become an independently designated NCI center but brings value to the designated center and essentially has a similar focus and mission for the region that they serve.
Shared resources and proximity to the NCI-designated Cancer Center or Comprehensive Cancer Center to which they are aligned enable robust interaction on a regular basis that helps drive a shared research mission forward.
Are Consortium Partners reviewed by the NCI and do they have an NCI designation?
The approval process for consortium partners requires the NCI to review the merits of the proposed partner through both an application and a site visit at the parent institution. The approval comes to the NCI-designated Cancer Center or Comprehensive Cancer Center, which has to demonstrate that the addition of this partner will be value added or enabling for the science mission, vision, and focus of that cancer center. The review and approval are part of the application and review process of the parent institution. The consortium partner is not independently reviewed, approved or designated. The NCI has strict rules regarding the partner's use of and branding of the consortium relationship since the consortium partner is not actually designated by the NCI. Only the parent institution holds the NCI designation. 
Consortium partners are required to have at least five independently funded investigators and seven independently funded projects from R01 equivalent funding or those projects that are peer-reviewed.  For our consortium partnership involving Princeton University, there are 14 independently funded Princeton University faculty members and 25 independently funded projects at Princeton University. Many of these faculty members are involved in the day-to-day operations, leadership and science of Rutgers Cancer Institute.
Steven K. Libutti, MD, FACS, Senior Vice President of Oncology Services, RWJBarnabas Health and Director, Rutgers Cancer Institute of New Jersey explains what a National Cancer Institute designation means and its importance. For more information about cancer services at RWJBarnabas Health, please visit rwjbh.org/beatcancer.
Resources
What Does it Mean to be an NCI-Designated Comprehensive Cancer Center?
Why choose an NCI-designated Comprehensive Cancer Center?
Learn more about the NCI Cancer Centers Program
Learn more about Rutgers Cancer Institute of New Jersey
Learn more about Rutgers Cancer Institute of New Jersey leadership
Related News
Rutgers Cancer Institute NCI Designation and RWJBarnabas Health Partnership