New Brunswick, N.J., May 2, 2023 – When symptoms and blood tests suggest bladder cancer, the fourth most common cancer in men according to the American Cancer Society, experts will inspect the inside of the bladder using a long, thin tube with a video camera on the end called a cystoscope. Recent technology advances with this examination – called a cystoscopy – have enabled physicians to have a more in-depth and accurate look. Cystoscopies use a traditional white light to examine the bladder lining. But a handful of facilities in the tri-state region including Rutgers Cancer Institute and Robert Wood Johnson University Hospital, use enhanced blue light technology with an imaging solution that better highlights cancerous tumors under the blue light making them more visible and defined. Saum Ghodoussipour, MD, urologic oncologist and director of the Bladder and Urothelial Cancer Program at Rutgers Cancer Institute and assistant professor of surgery at Rutgers Robert Wood Johnson Medical School, shares more.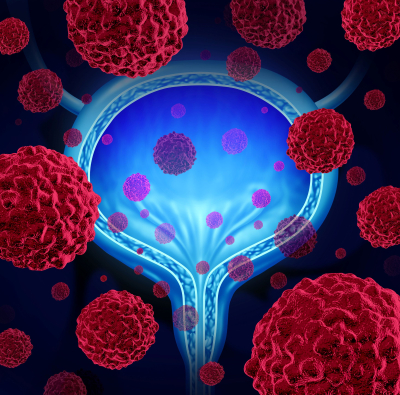 Q: Can you walk us through the blue light cystoscopy procedure from start to finish? 
After getting checked in to the hospital, patients will have a urethral catheter placed in a similar fashion to when receiving intravesical therapy, which many of our patients with bladder cancer are accustomed to. Our nursing team will then instill an optical imaging agent (Cysview®), in fluid form into the bladder. The catheter is then removed and the agent is kept within the bladder for at least an hour. During this time, the agent is taken up by any cancerous cells that may be present in the bladder. The agent accumulates in cancerous tumor tissue, but not in normal tissue. 
Next, we perform cystoscopy in the operating room. After the patient goes to sleep with anesthesia, a camera is placed into the bladder and the bladder wall is illuminated with blue light, which allows the cancerous cells to shine bright pink while normal cells appear blue. This allows us to differentiate cancerous tissue from normal tissue. We then perform transurethral resection (TURBT) where a special resecting loop is used to remove all the cancerous tumors. We can use blue light again at the end to make sure all the cancerous tissue has been removed. 
Q: Who is a good candidate for this procedure?
Any patient with a newly diagnosed bladder tumor is a good candidate for this procedure. Blue light cystoscopy is also very effective for the monitoring of disease in patients who have a history of high grade and non-invasive bladder tumors. The procedure is most effective in patients who have a history of carcinoma in situ, which is a flat and high-grade tumor that is very difficult to see compared to other tumors that may look like polyps.  
Q: Can you describe the benefits/uniqueness of blue light cystoscopy
Between 75 percent and 85 percent of patients diagnosed with bladder cancer are diagnosed with non-muscle invasive bladder cancer. While this is not typically a lethal presentation, approximately 30 to70 percent of patients can have a tumor recurrence after initial treatment and up to 25 percent can progress to more aggressive disease. Traditional white light cystoscopy has limitations in tumor detection that has been shown to result in residual tumor in up to 70 percent of patients 8 weeks after their original surgery. Enhanced detection of bladder cancer with blue light cystoscopy allows us to more accurately diagnose and stage patients so that we can provide the most appropriate treatment strategies. Improved detection also allows us to resect tumors more completely without leaving anything behind. This helps decrease rates of recurrence and progression. 
Learn more about this procedure offered at Robert Wood Johnson University Hospital and Rutgers Cancer Institute, the state's leading cancer program and only NCI-designated Comprehensive Cancer Center together with RWJBarnabas Health: https://www.cinj.org/patient-care/blue-light-cystoscopy.