New Brunswick, N.J., June 1, 2023 – As the most common cancer (after skin cancer) and second leading cancer cause of death in American men, prostate cancer is among the largest health concerns for men today. To increase awareness of the disease and available resources for  men in our communities that can support their overall health and wellness, David M. Golombos, MD, urologic oncologist in the Urologic Oncology Program at Rutgers Cancer Institute of New Jersey and RWJBarnabas Health, goes back to the basics on prostate cancer.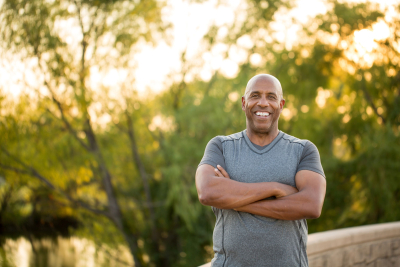 What is a prostate? The prostate is a walnut-sized gland found only in men that is located between the bladder and penis in front of the rectum. The urethra (urinary tube) runs through the center of the prostate.  The prostate contains smooth muscles that expel semen during ejaculation and secretes a fluid that nourishes and protects the sperm.

What are risk factors for prostate cancer? The risk of prostate cancer increases with age.  It is rare in men under the age of 40, and more than 60 percent of men diagnosed are age 65 or older. Having a first-degree relative with prostate cancer, especially if they were diagnosed before age 55, doubles your risk. Prostate cancer is more common in Black and Afro-Caribbean men.  Finally, while uncommon, some men are born with gene mutations that increases their risk, most notably BRCA1 and BRCA2.      

What are the signs and symptoms of prostate cancer? Most prostate cancer is found through screening. Since screening may find diseases at an earlier stage, there may be a better chance of a cure. More advanced prostate cancers can sometimes cause symptoms, such as problems urinating, blood in the semen, sudden onset erectile dysfunction, pain in the hips, back (spine), chest (ribs), weakness or numbness in the legs or feet, or loss of bladder or bowel control. 

How do you screen for prostate cancer? A blood test called a prostate specific antigen (PSA) measures the level of PSA in the blood.  PSA is a protein made by the prostate. The levels of PSA in the blood can be higher in men who have prostate cancer, but may also be elevated in benign conditions that affect the prostate.  A digital rectal exam (DRE) is when a health care provider inserts a gloved, lubricated finger into a man's rectum to feel the prostate for abnormalities. 

Who should get screened and when? It is recommended that most men begin talking to their doctor about the benefits of prostate cancer screening at the age of 45. Men at higher risk (Black men or those with a family history) should talk to their doctor starting at age 40.  

How can I lower my risk of getting prostate cancer? Some risk factors such as age, race, and genetics are unavoidable, but there are some risk factors men can control.  Try to reach and maintain a healthy weight.  Exercise regularly.  Limit red meat and saturated fats.  Steer clear of highly processed foods. Incorporate cooked tomatoes and cruciferous vegetables (like broccoli and cauliflower) into your diet.  If you smoke, try to quit. Get screened. 
June is Men's Health Month, a national observance used to raise awareness about men's health issues. When men have the information and resources they need, they may feel more empowered to take control of their health. Learn more about the Prostate Oncology Program at Rutgers Cancer Institute, the state's leading cancer program and only NCI-designated Comprehensive Cancer Center. https://www.cinj.org/patient-care/prostate-oncology-program