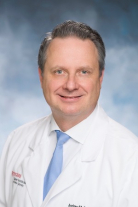 Andrew M. Evens, DO, MBA, MSc
Associate Director for Clinical Services, Rutgers Cancer Institute;
System Director of Medical Oncology and Oncology Lead for Combined Medical Group, RWJBarnabas Health;
Associate Vice Chancellor for Clinical Innovation and Data Analytics, Rutgers Biomedical and Health Sciences
I am thrilled to be a member of the Rutgers Cancer Institute of New Jersey as the Associate Director for Clinical Services; System Director of Medical Oncology and Oncology Lead for the Combined Medical Group with RWJBarnabas Health (RWJBH); and Associate Vice Chancellor for Clinical Innovation and Data Analytics, within Rutgers Biomedical and Health Sciences (RBHS). Rutgers Cancer Institute one of only 53 cancer centers recognized nationally and New Jersey's only National Cancer Institute (NCI)-designated Comprehensive Cancer Center. Our mission is to deliver integrated and compassionate cancer care across the health system with access to academic expertise and innovative cancer therapies not available elsewhere in the state.
I completed a fellowship in hematology/oncology at Northwestern University Feinberg School of Medicine and the Robert H. Lurie Comprehensive Cancer Center in Chicago, Illinois, where I also remained as a faculty member altogether for 10 years. Most recently, I served as the director of the Cancer Center at Tufts Medical Center in Boston, chief of their division of hematology/oncology, and Professor of Medicine at Tufts University School of Medicine.
My clinical expertise and research interests are concentrated in the field of lymphoid malignancies (i.e., Hodgkin lymphoma and non-Hodgkin lymphoma). Over the past 20 years, I have been the principal investigator of more than 100 cancer clinical trials that have included phase I, II, and III studies, many which have been "investigator-initiated" trials studying new and novel targeted agents. Collectively, my research has been continuously funded by the National Institutes of Health (NIH) since 2005, which also includes several global collaborations. This has resulted in 350+ research abstract presentations at national and international cancer symposiums, 200+ manuscripts in peer-reviewed publications, and 35+ book chapters all with an emphasis on biology, prognosis, treatment, and health outcomes in cancer.
Nationally, I am a core member of the Hodgkin Lymphoma Working Group for the NIH/NCI Steering Committee, and an ad hoc member of additional clinical and scientific committees for the NIH, NCI, Cancer Therapy Evaluation Program (CTEP), and the Food and Drug Administration (FDA). I was an associate editor for the British Journal of Haematology for 8 years, and now serve as the inaugural editor-in-chief of the gold open access journal, eJHaem. I am Vice-Chair of the Lymphoma Committee for the ECOG-ACRIN cancer research group; Co-Chair of the Big 10 Cancer Research Consortium lymphoma working group; a member of the Board of Trustees for the Leukemia & Lymphoma Society (LLS) New Jersey Chapter; and a re-elected member to the North American Scientific Advisory Board (SAB) for the Lymphoma Research Foundation. Finally, I help lead a multitude of regional, national, and international educational forums and events.
Rutgers Cancer Institute has a rich history of conducting state-of-the-art and groundbreaking cancer research, and together with RWJBH and RBHS, offers extensive knowledge, clinical care, and unparalleled resources for cancer patients and their families all close to home. I am honored to be a member of the Rutgers Cancer Institute and a leader of the RWJBH oncology service line working alongside the multitude of outstanding cancer providers providing compassionate and expert care throughout the state of New Jersey and beyond.
Clinical Expertise
Hodgkin lymphoma, non-Hodgkin lymphoma (all types), chronic lymphocytic leukemia, and autologous hematopoietic stem cell (or bone marrow) transplantation
Honors
Jersey's Best, Top Doctors In Cancer Care (2022)
Top Doctor, New York Metro Area (2022)
Ted Marousas Award, Rutgers Business School (2022)
Jersey's Best, Top Doctors In Cancer Care (2021)
Board of Trustees, Leukemia & Lymphoma Society, New Jersey Chapter 
Jersey's Best, Top Doctors In Cancer Care (2020)
Top Doctor, New York Metro Area (2020)
Re-elected Member, Scientific Advisory Board (SAB) for the Lymphoma Research Foundation (2014 and 2019)
New Jersey Top Doctor in Cancer Care (2019)
Grand Marshall, Lymphoma Research Foundation New York Walk (2019)
Top Doctor, Boston Magazine (2017 and 2018)
National Co-Chair, North American Educational Forum on Lymphoma, Lymphoma Research Forum (2017)
Chan Soon-Shiong Endowed Scholar in Precision Medicine, Tufts Medical Center (2016)
Advisory Panel to Vice President Joseph Biden's "Cancer Moonshot" initiative, Washington, DC (2015)
Teaching Oncology Attending of the Year, Division of Hematology/Oncology, Northwestern University (2009)
Excellence in Teaching Award, Department of Medicine, Northwestern University (2008-9)
Compassionate Care Award, The Woman's Board of Northwestern Memorial Hospital (2005)
Translational Research Award, ECOG's Young Investigators' Clinical Scientist Symposium (2002)
Compassion Care Awards, Lutheran General Hospital (1996-2000)
Intern of the Year, Lutheran General Hospital (1996-1997)
Sigma Sigma Phi National Osteopathic Honor Society (1994)
Bill Bradley Academic All-American, NCAA Division II Basketball (1989)