Story by Maryann Brinley  •  Portraits by John O'Boyle         View the complete magazine | Subscribe to Cancer Connection
Thought to be just a mosquito bite, a bump on Hudson Yahara's leg was revealed to be cancer, but a 'team' treatment approach now has this 9-year-old back in play.  
It looked like a mosquito bite at first: A big one that wouldn't go away. All summer. Maybe it was a lump or bump from playing football, or a scratch that had become infected. "I didn't think anything of it," admits Hudson Yahara's mother Megan. Hudson is 9-years-old, loves football, lacrosse, wrestling, hunting, fishing, video games and is known around the halls of Rutgers Cancer Institute of New Jersey as a rock star because of his incredible resilience, personality and pain threshold. 
"Mom, look at my bump now," he asked Megan. That was in the fall of 2016. So they started at the pediatrician's office, went to the local hospital for testing, and landed in the gentle care of Margaret Masterson, MD, and her team from the Pediatric Hematology/Oncology Program at Rutgers Cancer Institute. The diagnosis in December of that year was devastating. "A million scenarios play through your head," admits John Yahara, Hudson's father. "At first, it was like your heart is breaking. You think only the worst."
"Caring for kids with cancer is difficult but the kids are where we draw our strength," insists Dr. Masterson, who is also an associate professor of pediatrics at Rutgers Robert Wood Johnson Medical School.  "Hudson is such an active, curious kid." Hudson is on a year-long multi-modal treatment plan – chemotherapy, surgery, weeks of daily proton radiation, physical therapy and months more of chemo for an aggressive, rare, alveolar rhabdomyosarcoma in his left calf. "It involved his Achilles tendon," she explains, which was surgically removed and reconstructed with a cadaver graft. "Yes, this is a serious cancer but the prognosis is very good," according to Masterson. "She is very positive," Megan says. "If she tells us something is going to happen, it happens. She never gives us false hope but is always very upbeat." Stepmother Heather Yahara admits, "We used to Google his diagnosis," a stage 3, locally aggressive, soft tissue tumor. "We don't Google it anymore. We just listen to Dr. Masterson."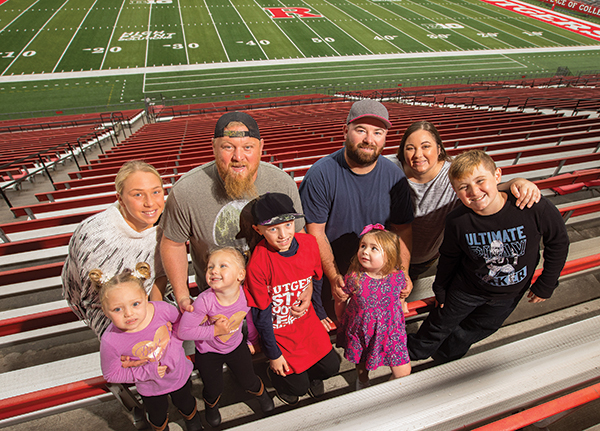 Team Hudson: Hudson Yahara and his family. Top row from left: Heather Yahara, John Yahara, Ryan Armstrong, Megan Armstrong. Bottom row from left: Boa Yahara, Bay Yahara, Hudson Yahara, Madison Armstrong, John Yahara.
This past year has taken every member of Hudson's large, extended family on an emotionally tough journey to help their little boy get better. Hudson's dad, John, says that before the diagnosis, he was not really in such regular contact with his ex-wife Megan or her husband, Ryan. The two families talk all the time now. "This has brought everyone together." Heather agrees, "Hudson's health and getting through this is the most important thing for all of us. Nothing else matters. We make it work, no matter what." Heather often shepherds Hudson back and forth to the hospital bringing along her two little daughters, Boa, 3, and Bay, 2. His big brother, John, 12, (Megan's son) is also right there for Hudson as well as his other little sister, Madison, 3. Everyone has been in and out of Robert Wood Johnson University Hospital (an RWJBarnabas Health facility) for inpatient, outpatient, and overnight, as well as weeks of chemotherapy and radiation. Everyone wants to be included in his care: fathers, mothers, stepparents and grandmothers. 
"It's a real family affair," according to Rutgers Cancer Institute pediatric hematology/oncology nurse Dawn Carey, RN, MSN, APN. "Hudson's little sisters are always asking 'What are you doing?'" Hudson himself wants to know "exactly what's going on, is very inquisitive and he gets it," Masterson says. "When you have cancer in a family, the whole family is involved. It's good for them all to come in, so they don't worry so much," she continues. "And it's so helpful for Hudson to have everyone on board because it's got to be all about him in order to make him better."  "These children are so resilient," Carey adds. "To see them grow up, go to college, and have families of their own is probably the best reward you can get," reflects Masterson.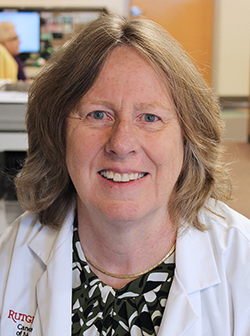 "Caring for kids with cancer is difficult but the kids are where we draw our strength," shares pediatric hematologist/oncologist Margaret Masterson, MD, who also notes that family involvement and support, as seen in Hudson Yahara's case, are key to a pediatric patient's treatment and recovery.
(Photo: Debbie Vogel)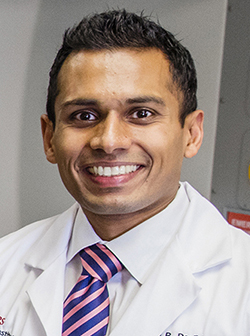 "For kids, proton therapy should be the standard of care where it's available," explains Rahul Parikh, MD, medical director of the Laurie Proton Therapy Center. "Proton therapy gives you surgical accuracy and precision while reducing the side effects of traditional radiation, especially beneficial for patients who are going to live many decades after their treatment." 
(Photo: Alan Schindler Photography)
Born two weeks early, Hudson gained weight quickly as an infant, Megan recalls: "We called him 'Meatball.' He was our chubby little 'meatball' with no visible neck." Thin now from his yearlong bout with cancer, Hudson started his first round of chemotherapy last winter. It was designed to shrink the 9 centimeter tumor and make it easier for surgeons to remove the mass in his muscle and connective tissue. His radiation oncologist at Rutgers Cancer Institute, Rahul Parikh, MD, explains, "We purposely delayed surgery to allow the tumor to shrink. It was quite large, involving almost the entire half of his lower left leg." Dr. Parikh, who is Medical Director of the Laurie Proton Therapy Center at Robert Wood Johnson University Hospital, had planned daily doses of proton radiation therapy for Hudson after his surgery. He would be using proton versus photon or traditional radiation because "I'd be able to pinpoint the target, killing tumor cells within several millimeters and limiting the harmful radiation to his long bones and other critical structures. The developing long bones, such as the femur, have several different areas of growth plates when you are growing like Hudson, and I particularly wanted to spare those." 
Standard radiation would have unintentionally sprayed more radiation to the bones and soft tissues of his leg, says the doctor. "For kids, proton therapy should be the standard of care where it's available and this family had sought me out because they educated themselves (about the treatment), knowing what was best for Hudson," explains Parikh, who is also an assistant professor of radiation oncology at Rutgers Robert Wood Johnson Medical School. "Proton therapy gives you surgical accuracy and precision while reducing the side effects of traditional radiation, especially beneficial for patients who are going to live many decades after their treatment. When we cure patients, we want to make sure they live without cancer with as few side effects as possible," he says. 
Parikh has just completed and published a national study that found proton therapy is significantly underutilized in pediatric patients. "That needs to change because this therapy minimizes many toxicities. In modern practice, there is little reason why pediatric patients in New Jersey should be getting anything but proton therapy if they need radiation. And a center like ours is one where a family with a child with cancer meets all of the specialists to get the best and most advanced care possible."
A decision to go with their first choice of surgeons in the spring was abandoned when the family decided the outcome described for Hudson just didn't feel right. "We were being told that he would wear a leg brace for the rest of his life, that Hudson was never going to run again, or play contact sports," John says. They went with their gut feelings. As Megan says, "You've got to trust yourself. If someone gives you a bad feeling or bad news, get a second opinion." But, Heather recalls, "This is such a scary process. Everything is based on statistics and a timeline. Hudson had to have certain treatments done along this strict timeline" in order for treatment to be successful, statistically speaking. The delay in surgery while they sought a second surgical opinion might have been life threatening. Megan says, "In my heart of hearts, I knew we were making the right decision to look for another surgeon but I was so worried about the cancer spreading." John adds, "That was the worst experience. You are just so scared, and you don't want to veer away from what doctors are saying. But it was the best decision we could have made for Hudson."    
Meanwhile, "Everyone at Rutgers Cancer Institute was on board," Masterson insists. "There was good communication between all of his doctors. It was really a team effort. We did a lot of manipulating of the chemotherapy following the complicated surgery and wound healing because there can be effects on healing from chemotherapy. This leg has to heal so it can support him for the next 80 or maybe 90 years." 
The targeted proton beam therapy radiation under Parikh's care in May 2017 turned out to be tricky. A lymph node in Hudson's groin showed positive for cancer cells so the pinpointed radiation had to be aimed all the way up the leg, from the heel and ankle to the thigh and groin. Hudson was on his back, in a leg cast from surgery and then put into an immobilization device with that leg up for an hour, holding perfectly still. "This would have been very challenging even for an adult," Parikh recalls. Working as efficiently as they could, the radiation team considered trying various distractions for Hudson but "he didn't need anything. He didn't even need any sedatives for 28 treatments," Parikh says. They had looked into showing projections on the ceiling or giving him goggles that play cartoons. Not necessary. "What a resilient little boy," Parikh adds. "It was summer by then and he really wanted to get that cast off but there was almost no compromising his activities in spite of it and the ongoing radiation" five days a week for more than a month. At the end of the protocol, Parikh and his team bought their rock star patient a San Antonio Spurs basketball jersey with his name, Hudson, and the number 11 on the back, for his birthday, January 11. 
It was Parikh who asked Hudson if he wanted to be featured in a magazine story. "Will I be famous?" he asked his doctor. "Yes, you will." And so this plucky 9-year-old agreed. In fourth grade now, he's managed to keep up with his classmates with an in-home or in-hospital teacher's help. Favorite subject: Math.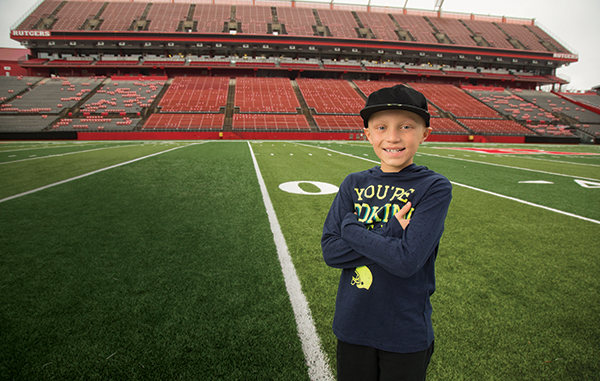 Once told he might be in a leg brace for the rest of his life, 9-year-old Hudson Yahara has some fun at Rutgers University's Highpoint Solutions Stadium during a break from treatment.
Shy at first, Hudson opens up to everyone eventually, especially his pals at Rutgers Cancer Institute. Heather explains, "He's funny. The staff will look at him and say, 'Who is this kid?' Everyone has been absolutely amazing. There have even been times we've had to take an ambulance here and the staff is just so caring. I tell everybody that we take it appointment by appointment, day by day. We don't focus on the 'what if's.'" So many family milestones have been spent in the hospital. "Recently when Hudson spiked a fever, we were back in so the team on the floor helped decorate his room to surprise and celebrate John's birthday here. I brought all the kids in," notes Heather.  
Hospital support staff including the Child Life team, and programs like Embrace Kids and volunteer students from Rutgers University are always there to keep Hudson engaged. "There is a local Rutgers fraternity whose brothers come to hang out with him. Hudson loves that," John says. Hudson has his eye on Notre Dame for college in the distant future so his stepdad emailed the school's football coach, Brian Kelly, who responded with a poster autographed to Hudson and saying, "You can't win without the will to prepare." 
"We've just had a set of scans done and they look very good," Masterson reports. With the last of chemotherapy scheduled for December 2017, Hudson's goal is to "go back to playing his football and sports. Hudson should be finished with his treatments by Christmas," notes the doctor. 
On one recent Friday afternoon, Hudson and his dad left the hospital after an in-patient treatment and headed straight to a private deer hunting spot in Bridgewater. By 4:30 pm they were in the bush together with a bow and arrow. In the near dark, the two bagged their first buck of the season. John handles the bow. "He loves it and was super-pumped last night," John reports. Another little boy might have chosen to lie on a couch recovering. Not Hudson. "He got that rock star nickname the day after surgery," John recalls. "They had removed two-thirds of his Achilles and 5 inches of his calf muscle but the next day he was up and heading to the playroom. He took only two painkillers after this major surgery." 
Hudson has a scar from the back of his knee all the way down to his ankle. "Someday I'm going to tell all the girls it's from a shark bite."■