Story by Mary Ann Littell  •  Portraits by Nick Romanenko         View the complete magazine | Subscribe to Cancer Connection
On a summer day in 2015, Thomas Hebert should have been on top of the world. Fifty-five years young, he'd recently retired as head custodian of the Brick Township schools. Embracing his new life with gusto, he and his wife Ginny indulged in their love of fishing in the bay near their home in Forked River, New Jersey. They took leisurely spins on their boat and soaked up all that was wonderful about the Jersey Shore. But the euphoria of retirement abruptly evaporated when Hebert was diagnosed with stage IV colon cancer.  
That morning, Hebert walked out the doors of Rutgers Cancer Institute of New Jersey in a state of disbelief. He'd just met with his team of physicians, who outlined an ambitious treatment plan, at the same time gently letting him know his cancer was so serious that he might not survive the treatments.
As he waited for the valet to retrieve his car, Hebert noticed a woman pulling a small boy in a wagon. The woman was clearly distraught. Hebert overheard her telling her companion that the child's white count was dangerously low, but she was having difficulty obtaining coverage for blood transfusions. "He's very sick," she said forlornly. "I don't know if he's going to make it."
"When I saw this child, my whole outlook changed," recalls Hebert. "I thought: Yes, I have cancer, and that stinks. But I've lived a great life with many blessings. This little boy hasn't even had a chance at life yet. At that moment I stopped feeling sorry for myself and resolved to fight my hardest to get better. And I also was determined to try and help that child. Something good would come out of this." This positive attitude, combined with a deep faith, sums up Hebert's outlook. Brimming with optimism, no obstacles, not even cancer, will keep him from living life to the fullest. Even his doctors are impressed with his resilience and resolve.
A big, strapping man, Hebert has always enjoyed good health. His father was not so fortunate: he died of multiple myeloma in his 50s. The family's roots are in Canada. As a child, Hebert lived first in Elizabeth, then 'down the Shore,' where he got his first job at a boatyard. He was only 15. "I told them I was 16, because I knew they wouldn't hire a 15 year old," he laughs. "From the time I was a kid I've loved being around the water—boating, fishing, the beach. The only problem in our marriage is that Ginny's so much better at fishing than I am. She always beats me!"
"What can I say? It's a gift," Ginny banters back, smiling at her husband. The couple's devotion to each other is obvious and Hebert credits his wife for saving his life. She went for a routine colonoscopy in late summer 2015 and insisted he get one too. She even made him an appointment, paying a nonrefundable deposit. "Ginny said no more excuses: now that I was retired I had to start taking better care of my health. I just wish I'd done it sooner," he says soberly.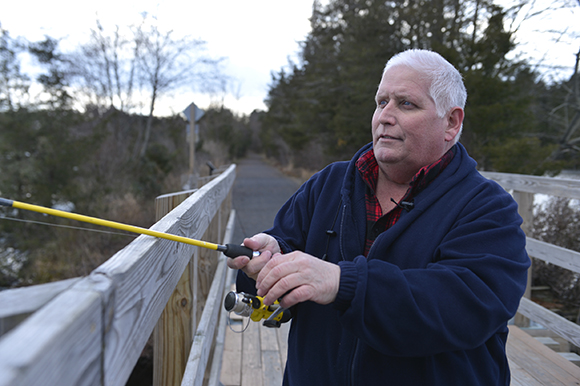 A positive attitude, deep faith and a multidisciplinary treatment approach are helping Thomas Hebert battle stage IV colon cancer.
The colonoscopy showed that Hebert had cancer in the sigmoid colon, the area closest to the rectum, and would need immediate treatment. Hebert was shocked, since he never had any symptoms. He and his wife began researching treatment centers and learned about Rutgers Cancer Institute. "We were impressed with the staff's great credentials and team-based approach," says Hebert. "As an added plus, it was close to home – so we made an appointment."
In August 2015 Hebert consulted with medical oncologist Elizabeth Poplin, MD, co-director of the Gastrointestinal/Hepatobiliary Program, and surgical oncologist Darren Carpizo, MD, PhD, director of the Liver Cancer and Bile Duct Cancer Care Program. Both are faculty members at Rutgers Robert Wood Johnson Medical School. They're part of a multidisciplinary team that includes medical, surgical, and radiation oncologists, interventional radiologists, gastroenterologists, and other highly skilled medical and nursing specialists.
Further testing and a CT scan revealed even worse news: the cancer had metastasized to Hebert's liver and was advanced at stage IV. "Mr. Hebert's liver tumor was exactly where you would NOT want a tumor to be – in the center of the liver, next to major blood vessels," says Dr. Carpizo. "Additionally, the tumor was large – a bit over five inches at the largest diameter. These factors meant the tumor was not resectable, or removable by surgery. When we can't remove disease, a patient's overall prognosis is significantly worse. When we can remove disease the five-year survival rate is approximately 45 percent, and one in five patients will be cured."
Historically, treatment options for such patients were poor, but new combinations of chemotherapy and the addition of targeted chemotherapy have improved outcomes, which was good news for Hebert. "Our immediate goal was to shrink the cancer we could see in his colon, liver, and lymph nodes, and also the microscopic bits of colon cancer that we could not see that might exist somewhere in his body," explains Dr. Poplin.
A Multidisciplinary Approach
The first part of Hebert's treatment plan called for systemic chemotherapy, which circulates through all parts of the body. Poplin would administer a combination drug called FOLFOX, plus an additional medication, panitumumab – given based on the results of genetic testing – to shrink the tumors. If this treatment was successful, the colon tumor would be removed and Carpizo would implant a hepatic artery infusion (HAI) pump in Hebert's abdomen. The size of a hockey puck, the pump has a vessel leading right into the liver to deliver targeted chemotherapy.
The pump is particularly helpful in patients with colorectal cancer with liver metastasis because liver metastases from colorectal cancer get much of their blood supply from the hepatic artery. Therefore, hepatic artery infusion is an effective way to deliver therapy. "Systemic plus HAI chemotherapy often leads to a better response of the liver disease, compared to systemic chemotherapy alone," says Carpizo. "We use the pump for patients who are initially unresectable, with the hope that the pump will shrink tumors enough to make them resectable."
The systemic chemotherapy did its job and in January 2016 Hebert had his colon cancer removed robotically by colorectal surgeon Nell Maloney Patel, MD, who is an assistant professor of surgery at Rutgers Robert Wood Johnson Medical School. In the same seven-hour procedure performed at Robert Wood Johnson University Hospital, the flagship hospital of Rutgers Cancer Institute, Carpizo implanted the HAI pump.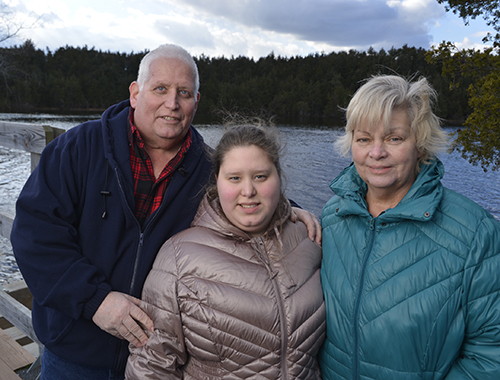 Thomas Hebert with wife Ginny and daughter Samantha at a favorite fishing spot near their Forked River home.
From January to May 2016 Hebert received chemotherapy via the pump 24/7. He admits the treatment was difficult. "It tired me and I had a lot of pain, but I'm a tough Canuck. I pressed on and saw it through. Dr. Poplin did a fantastic job – that lady is a super-brain. She always keeps you informed." He adds that everyone involved in his treatment provided tremendous support. One of the nurses, Joyce Plaza, RN, BSN, OCN, even gave Hebert her personal cellphone number. "She always took our calls, even on her days off," states Hebert. "That's above and beyond."
Imaging studies done in summer 2016 brought great news: the liver tumor had shrunk. It was only one and a half inches at largest diameter and could now be resected. In August 2016 Carpizo removed half of Hebert's liver. "The tumor was still on the hepatic vein," notes Carpizo. "We removed as much as we could but a small positive margin of cancer remains."
The remaining cancer would be treated with radiation, so Carpizo left small metal markers to indicate its location. "These markers provide a guide for us to deliver radiation therapy very precisely," explains Rutgers Cancer Institute radiation oncologist Salma Jabbour, MD. She and Carpizo met beforehand so he could review the plan for radiation therapy, one of the advantages of treatment at a multidisciplinary team setting.
Hebert received five treatments of stereotactic body radiation therapy (SBRT), given to treat microscopic disease and eradicate any remaining cancer cells. "SBRT is very targeted to a small area, avoiding healthy tissue," says Dr. Jabbour, who is also an associate professor of radiation oncology at Rutgers Robert Wood Johnson Medical School. "It's quite effective in treating liver cancers."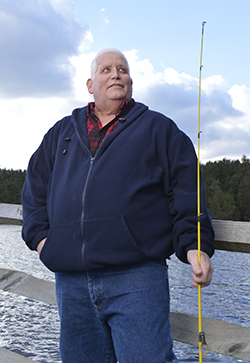 Thomas Hebert
Looking toward Tomorrow
Hebert is finished with treatment for now. His medical team is pleased he is doing so well. The pump remains in place and he'll be closely monitored for any recurrence. Patients with liver cancer have a 75 percent chance of recurrence, most commonly in the first two years after surgery, says Carpizo. "Eighty-five percent of all patients with a Stage IV liver cancer are not candidates for surgery," he adds. "But this therapy has expanded the number of people who can have surgery to remove their cancer, which significantly improves their prognosis." 
Hebert says he would not have made it through the treatment without the support of Ginny and their two grown children. He's feeling better every day, but tires easily and has some physical restrictions. "I can only do about 25 percent of what I used to do, but I don't think about it," he says. In November 2016 his son Tom and daughter-in-law Emily had a baby. "I'm glad I'm here to enjoy Bailey, my first grandchild," says Hebert, adding that his daughter Samantha, who has high-functioning Asperger syndrome, prays for him every night. 
Hebert hasn't forgotten the little boy he saw on his first visit to Rutgers Cancer Institute. Early in Hebert's treatment a blood drive was held for him at Forked River Baptist Church. Over 200 pints were collected, much more than he needed. He arranged to have the donated blood sent to help pediatric patients at Rutgers Cancer Institute; Robert Wood Johnson University Hospital; and Children's Specialized Hospital, all in New Brunswick. In winter 2016 the church held a second blood drive to benefit children. Hebert plans to make the drive an annual event.
"The nurse who ran the blood drive says 200 pints of blood can help at least 300 children," says Hebert. "She was so appreciative she wanted to put my name on a plaque. I told her a plaque was fine, but asked her to engrave 'God' on it, not my name. I'm grateful to be alive and in a position to give back and help others. God gets all the credit, not me." ■