A Black Diamond Challenge
Story by Mary Ann Littell  •  Photos by Nick Romanenko           View the complete magazine | Subscribe to Cancer Connection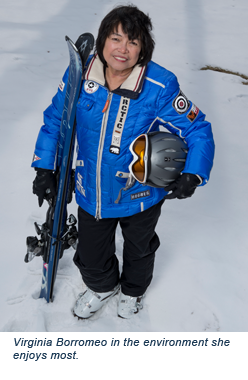 In the world of skiing, the 'black diamond' is known as an extremely difficult course to conquer. Having faced her own black diamond challenge of sorts is ski enthusiast Virginia Borromeo, who battled both breast and ovarian cancer and is back on the slopes.
It is a bleak day in January 2014, during what some New Jerseyans are calling 'the granddaddy of all winters.' A foot of snow blankets the ground and continues to fall fast and furiously. During this bout of frigid weather, most people hunker down indoors. But not 68-year old Virginia Borromeo. Despite the fact that she had breast implant surgery just three short weeks ago, she's outside in full storm gear shoveling the snow and ice off her driveway.
"Whew! That snow is heavy," the retired pediatrician says with a smile. "I've been out there all morning. I didn't think it would take so long." When asked where she finds the energy to shovel snow so soon after having major surgery, she replies, "I don't let cancer stop me from doing anything I want to do."
Dr. Borromeo, a resident of Old Bridge, New Jersey, knows only too well the challenges posed by cancer. She's battled it twice. Twenty years ago it was breast cancer — the reason why she got breast implants last January. Then in September 2011, it was ovarian cancer. "For me, breast cancer was easier to deal with than ovarian cancer," says Borromeo. "I'm thankful that the second time around, I have the support of a fantastic surgeon and a great facility at Rutgers Cancer Institute of New Jersey."
Borromeo's battle with cancer began in 1995. At the time, the busy mother of two ran a solo medical practice in Sayreville. An avid runner and sports lover, she was also training for the New York City Marathon in what little spare time she had. "I had run the marathon two years earlier and it was a fantastic experience. I wanted to do it again," she says.
Out for a two-hour practice run one day, she noticed her breasts were sore afterward. "I thought maybe my bra didn't provide enough support," she says. "But later, while I was watching TV, I felt the lump. Even though it was small, I knew it wasn't good."
When she went for the mammogram, it was the magnification films that confirmed the cancer. She had a lumpectomy followed by chemotherapy which was optional since the cancer was found to be early-stage. "I wanted to do everything I could to improve my prognosis," she notes. Radiation completed the treatment.
Her health was fine for several years. She cared for her patients, ran, played tennis, and got seriously hooked on skiing, "and all this with a slight heart arrhythmia!" she states. She joined a ski club right around the time she was diagnosed with breast cancer. Meeting a host of new friends, she skied her way around Europe and out West, and even began organizing some of the club's ski trips. When she retired from her medical practice a few years ago, she had even more time for skiing.
Clinical Trials:
Saving Lives Every Day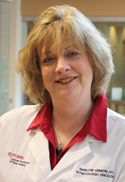 "While Virginia Borromeo did not enter a clinical trial, she greatly benefitted from them," says Darlene Gibbon, MD. "Every treatment she received was based on studies that women across the country participated in."
As one of the National Cancer Institute's designated cancer centers, Rutgers Cancer Institute of New Jersey has a strong clinical trials program and is able to provide access to trials not available elsewhere. Rutgers Cancer Institute currently enrolls more than 3,000 patients a year in such studies.
Gibbons' gynecologic oncology team at the Cancer Institute of New Jersey works closely with the Gynecologic Oncology Group (GOG), a national organization that aims to promote clinical and basic science research in the field of gynecologic malignancies. The introperitoneal therapy used to treat Borromeo is based on GOG studies.
Gibbon is also part of the Cancer Institute's Phase I/Investigational Therapeutics Program, which develops new methods for cancer treatment. Through this group, patients with a variety of malignancies have access to new and promising therapeutics. "We work closely with patients and utilize precision medicine, testing tumors for mutational changes and providing treatments based on these changes," says Gibbon.
"When I was a fellow, therapy options were limited, so when cancer recurred we had little to offer," she adds. "Now we have new drugs, innovations, and surgical approaches that help people live longer, leading to the treatment of ovarian cancer as a chronic disease." ■
Round Two
On a routine checkup in December 2010, her oncologist suggested testing her for the BRCA genetic mutation. Women carrying this mutation are at greatly increased risk of getting breast and ovarian cancer at some point during their lives. Borromeo tested positive for the BRCA2 mutation. She began exploring the possibility of having a prophylactic mastectomy. This procedure, the removal of all remaining breast tissue, dramatically reduces future breast cancer risk. She also considered having a hysterectomy, as well as a total removal of the ovaries and fallopian tubes. She planned to do these procedures just after the busy ski season.
Shortly thereafter, Borromeo started experiencing abdominal bloating and indigestion — common symptoms of ovarian cancer. She went to her primary care physician in September 2011. A colonoscopy and other tests were negative, but a CT scan confirmed the diagnosis. Her primary care physician referred her to Darlene Gibbon, MD, chief of gynecologic oncology at the Cancer Institute of New Jersey and associate professor of obstetrics, gynecology and reproductive sciences at Rutgers Robert Wood Johnson Medical School.
As a physician, Borromeo is no stranger to health crises. She just never expected them to hit so close to home. "I was shocked, but not shocked," she says. "I'm a doctor — I knew my symptoms were worrisome. After all the cancer treatment I'd been through, it wasn't really such a surprise. At first I was pretty devastated. I didn't want to think about it. But I rallied."
"That's one of Virginia Borromeo's exceptional qualities and part of the reason she's come through her treatment so well," says Dr. Gibbon. "She lives life to the fullest and has a great, can-do attitude." Gibbon suspected that Borromeo's cancer was fairly advanced. "Ovarian cancer is stealthy, with symptoms that are often attributed to other health problems," the physician continues. "That's why it's commonly diagnosed in advanced stages." Treatment would be immediate and aggressive.
Borromeo had surgery, called cytoreductive debulking, less than a week after her first visit. "In debulking, we remove as much of the tumor as possible," Gibbon explains. "The goal is to leave behind no tumors larger than one centimeter." This was the case with Borromeo, whose cancer was advanced, at Stage IIIC.
Post-surgery, Borromeo discussed chemotherapy options with Gibbon, with whom she's on a first-name basis. She describes her physician as "just like a dear friend, as well as an excellent surgeon who knows her specialty inside and out. She's always there for her patients and even gave me her cellphone number. Once when I was due for a chemotherapy treatment but couldn't reach her office after Superstorm Sandy, I called her cell. She got right on it and arranged everything herself."
Women with advanced ovarian cancer are at increased risk for disease recurrence, so Borromeo was treated with intraperitoneal chemotherapy (IPC). "IPC therapy is optimal for patients with minimal residual disease," says Gibbon. "Medication is delivered directly into the abdominal cavity through a surgically implanted catheter."
"Based on randomized Phase III clinical trials, this therapy offers improved progression free and overall survival," says Gibbon, who became interested in her specialty after a favorite aunt lost a tough battle with ovarian cancer. Unlike other surgical specialists, gynecologic oncologists are trained to both operate and administer chemotherapy. "Our group of physicians provides the full spectrum of care from start to finish," says Gibbon, who is board-certified not only in obstetrics and gynecology and gynecologic oncology, but also in palliative care and hospice medicine, which she says enables her to provide optimal care.
Back on the Slopes
Plans for Borromeo's prophylactic mastectomy had to be back-burnered while she underwent treatment. But one activity she would not defer was skiing. "I was running a trip to Italy that was scheduled for right after the third cycle of my chemo," she says. "I told Darlene I was going no matter what. She just smiled and said, 'Take lots of pictures.'"
The first day she was in Italy, Borromeo took to the slopes for four hours. "I overdid it and exhausted myself," she admits. "After that, I still skied every day, but not as much. It was great therapy. And I did take great pictures." One month later, after completing the fourth of six cycles of chemotherapy, Borromeo ran another ski trip out west, to Banff Lake Louise in Canada.
With all her patients, Gibbon emphasizes a focus on quality of life. "I stress the importance of making every day count, in spite of your diagnosis," she notes. "Throughout Virginia's treatment, she's continued to be active, to ski, and to travel. She's living her life."
Borromeo, who would much rather talk about her travels than her treatment, says, "This past year has been quite a journey, but I'm feeling great now." Skiing aside, she's had to put other activities on hold until all her surgery is behind her. "I haven't been able to run much. I used to play tennis, and I'd recently taken up golf. I had to put all that aside while I dealt with cancer. But I'm doing well now and it feels great to be back to normal. That's why shoveling the snow was a pleasure...well, almost."
In June 2013 Borromeo proceeded as planned with the prophylactic mastectomy, which was performed by Laurie Kirstein, MD, breast surgical oncologist at the Cancer Institute and assistant professor of surgery at Robert Wood Johnson Medical School. Dr. Kirstein also heads the Institute's breast fellowship program, implemented to help ensure more surgeons are trained in the specialty of breast cancer and breast disease. That month Borromeo also had the CA125 blood test, which checks for markers for ovarian cancer. The test was normal. A month later she had reconstructive surgery.
Post-cancer, life is good: with skiing, travel, and strong support from her two grown children. On her ski trips she enjoys hitting the slopes with her significant other, Ralph Calello. She also has a circle of friends "who get me out for movies, dinner, Broadway shows, brunch, you name it. We have a great time."
In February, Borromeo left on yet another trip, this one to Val Thorens resort in France's famous Les Trois Vallees. "The skiing was great," she enthuses. "It's the most beautiful place you can imagine.
"I'm already preparing for my next trip, to Taos, Mexico," she continues. "It's going to be wonderful!" ■