Tobacco Dependence Program

Stopping smoking starts here...Call 732-235-8222

Quitting is hard. 
The experts at our program understand that quitting is not easy. We know that smoking gets your body hooked on tobacco. When you try to stop, you can feel nervous, tense, moody, sad, hungry, and have cravings. These feeli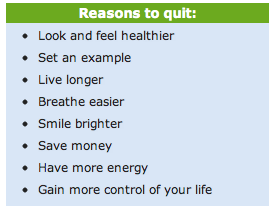 ngs make it very hard to quit, but with our support you can beat these feelings and quit for good!
We can help.
We see people quit smoking every day. You can quit, too! The care we give is proven to raise your chances of quitting.
About the Tobacco Dependence Program
The Tobacco Dependence Program is supported by the Rutgers Cancer Institute of New Jersey. School of Public Health, and Robert Wood Johnson Medical School.
What can you expect from the program?
Meet with trained experts
Learn about tools that can help you quit
Make an individualized plan that works for you
Your plan can include:
One-on-one support
Group support
Nicotine medicines (patch, gum, inhaler, spray, lozenge)
Other medicines (Chantix, Zyban, Wellbutrin)
Locations
Clinical Academic Building,  125 Paterson Street, New Brunswick, NJ
Rutgers Cancer Institute of New Jersey, 195 Little Albany Street, New Brunswick, NJ