Adult Oncology Programs
Rutgers Cancer Institute of New Jersey incorporates the varied disciplines that define advanced state-of-the-art approaches in comprehensive cancer care. These approaches include sophisticated techniques in diagnosis, surgical options, chemotherapy, hormonal therapy, biological therapy, and radiation therapy. A dedicated team of nationally renowned specialists is led by an academic physician who is an expert in the treatment of that disease, all working together with one goal in mind - winning is everything!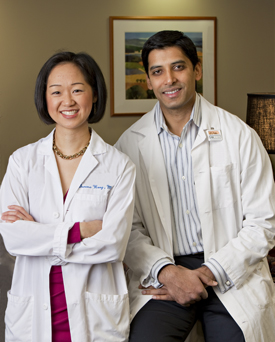 Patients are evaluated for participation in cancer clinical trials. As one of this nation's 45 National Cancer Institute (NCI)-designated Comprehensive Cancer Centers, the Cancer Institute is able to offer its patients access to clinical trials available only at NCI-designated centers.  For additional information about clinical trials at CINJ call 732-235-8675 or view the Cancer Institute's active clinical trials.
Patients, family members, or caregivers wishing to schedule an initial patient visit may do so by calling 732-235-2465 (CINJ)