Gynecologic Oncology Program
Fannie E. Rippel Center for Women's Reproductive Cancers/Gynecologic Oncology Program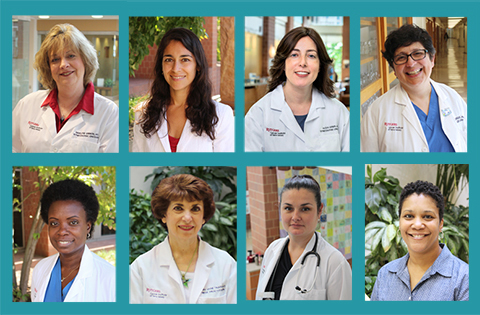 The dedicated doctors and researchers of the Gynecologic Oncology Program at the Cancer Institute of New Jersey take a multidisciplinary approach to the treatment of and research on cancers of the female reproductive system. This approach is based on an innovative, continuity of care model under which the oncologist who guides the patient through the diagnostic process also performs surgery, directs the patient's chemotherapy treatments if any are needed, and stays with the patient through the entire course of her disease. This allows the gynecologic oncologists to better understand each individual patient's disease. The Cancer Institute of New Jersey is one of just a few cancer centers nationwide to approach treatment in this manner.
Patients treated at the Cancer Institute of New Jersey have access to the latest clinical trials and treatment options available in gynecologic oncology. New treatment clinical trials for advanced ovarian cancer are available at the Cancer Institute including Gynecologic Oncology Group clinical trials, as well as pharmaceutical sponsored studies of new drugs. The Cancer Institute of New Jersey is currently conducting several clinical trials specific to ovarian cancers and a longitudinal study that follows women at increased genetic risk for ovarian cancer. In addition, researchers within the Program are studying ways to prevent gynecologic cancers.
Services offered by the Gynecologic Oncology Program include surgical treatment, chemotherapy, radiation oncology, psychosocial services, genetic testing and counseling, and educational programs.
Clinical Trials:
Useful Links From The Resource and Learning Center:
Staff of this Program:
Darlene G. Gibbon, MD, Chief, Gynecologic Oncology
Aliza Leiser, MD, Gynecologic Oncologist
Lorna Rodriguez, MD, PhD, Gynecologic Oncologist and Director of Precision Medicine
Omar M. Mahmoud, MD, MSc, PhD, Radiation Oncologist
Andrea Conaway, PA-C, Physician Assistant
Mary Jane Tranzillo, RN, MSN, APN-C, Advanced Practice Nurse
Magdalena Samborski, RN, Staff Nurse
Tareai Smith, RN, BSN, OCN, Staff Nurse
Rosemarie Slirzewski, MSW, LCSW, Social Worker