Phase I/Investigational Therapeutics Program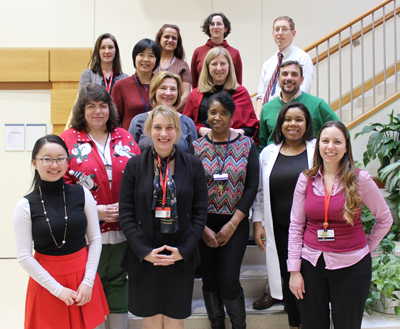 The Phase I/Investigational Therapeutics Program is a multidisciplinary scientific group designed to develop new methods for the treatment of cancer. The program includes a team of medical oncologists, nurses, research scientists, data coordinators and social workers who have extensive experience in providing novel therapeutic strategies.

Through this program, patients and physicians have access to the newest and most promising anti-cancer treatments supported by the National Cancer Institute, pharmaceutical companies and the Cancer Institute. Patients with a variety of malignancies are typically eligible to receive these treatments. The team meets weekly to discuss current and pending clinical trials and reviews all patients on Phase I clinical trials.
Clinical Trials:
Staff of this Program:
Janice Mehnert, MD, Director, Phase I and Investigational Therapeutics Program, and Medical Oncologist
Joseph Aisner, MD, Medical Oncologist 
Nancy Chan, MD, Medical Oncologist
Darlene Gibbon, MD, Chief, Gynecologic Oncology 
Jyoti Malhotra, MD, MPH, Medical Oncologist
Ann Silk, MD, Medical Oncologist
Mark Stein, MD, Medical Oncologist
Joan Quagliata, RN, Primary Treatment Nurse
Heather Camisa, RN, Research Nurse
Marjorie LaRosiliere, RN, Research Nurse
Barbara Hale, MSW, Social Worker