Leukemia/Lymphoma/Hematologic Malignancies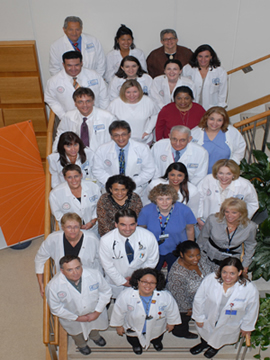 The Cancer Institute of New Jersey Hematologic Malignancies Program is a university-wide multi-disciplinary group of disease-oriented physicians, scientists, nurses, social workers and other staff members dedicated to optimizing treatments for patients with acute and chronic leukemias, non-Hodgkin's lymphoma, Hodgkin's lymphoma, multiple myeloma, myelodysplasia, myeloproliferative diseases, and other hematologic malignancies. Novel studies and investigator-initiated clinical trials complement studies developed by national cooperative groups and pharmaceutical companies to assure a broad research agenda focused on learning more about the biology of these diseases and improving currently available therapies.
Members of the Hematologic Malignancies team include physicians with interest and expertise in the clinical management of leukemia, lymphoma and related diseases; basic scientists that perform laboratory studies relevant to the biology and treatment of these diseases; translational scientists that perform studies designed to translate laboratory discoveries into information of particular clinical relevance; clinical investigators who work closely with basic and translational scientists to develop trials that test new therapies for patients with leukemia, lymphoma or related diseases; nurse practitioners who specialize in the care of patients with these diseases; transplant coordinators who care for patients in the process of evaluation for transplantation or novel cellular immune therapies; research nurses who help assure that our clinical trials meet the individualized needs of our patients; treatment nurses who have expertise in the administration of various disease-specific therapies; pharmacists who participate in the development and implementation of treatment plans; and social workers who provide a wide spectrum of psychological, emotional and other support services for patients confronted with leukemia, lymphoma and related diseases.
The Blood and Marrow Transplant Program at The Cancer Institute of New Jersey  is conducted in conjunction with Robert Wood Johnson University Hospital for in-patient care.
Clinical Trials:
Useful Links From The Resource and Learning Center:
Roger Strair, MD, PhD, Chief, Hematologic Malignancies and Blood and Marrow Transplantation
Rajat Bannerji, MD, Medical Oncologist
Joseph Bertino, MD, Medical Oncologist 
Dennis Cooper, MD, Co-Director, Blood and Marrow Transplant Program, Medical Oncologist
Kevin David, MD, Medical Oncologist 
Mecide Gharibo, MD, Medical Oncologist
Daniel Medina, PhD, Research Scientist
Rahul R, Parikh, MD, Radiation Oncologist
Vimal Patel, MD, Medical Oncologist
Dale Schaar, MD, Medical Oncologist 
Hatem Sabaawy, MD, PhD, Research Scientist
Tracy Krimmel, MSN, AOCN, APRN-BC, Advanced Practice Nurse
Kara Saggiomo, RN, APN-C, AOCNP, Advanced Practice Nurse
Kathryn Singer, MS, RN, APRN-BC, Advanced Practice Nurse
Joyce Herrera, RN, BSN, OCN, Nurse Clinician
Jacqueline Manago, RN, BSN, OCN, Nurse Clinician and Bone Marrow Transplant Coordinator
Mary Kate McGrath, MSN, RN, APN-C, OCN, Bone Marrow Transplant Coordinator
Lauren Kriegel, MSW, LSW, Social Worker
Deborah Leif, MSW, LCSW, Social Worker
Rosemarie Slirzewski, MSW, LCSW, Social Worker