Blood and Marrow Transplant Program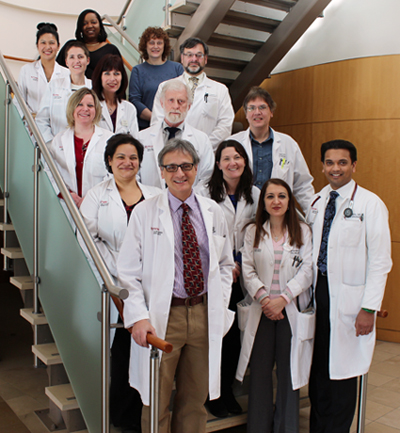 The Blood and Marrow Transplant Program is conducted in conjunction with the Robert Wood Johnson University Hospital. The Blood and Marrow Transplant team performs stem cell transplants for patients with a variety of illnesses, including acute and chronic leukemias, myelodysplasia, various types of lymphoma, Hodgkin's disease, multiple myeloma, amyloidosis and related diseases. Both autologous and allogenic transplants are performed.
The sources of transplant include matched siblings as well as matched unrelated donors and umbilical cord blood. There are several research initiatives within the Blood and Marrow Transplant program.  In addition to participating in national and international research studies with other transplant centers, there are unique research programs focusing on novel ways to: prevent graft-versus-host disease; improve umbilical cord blood transplants; and develop novel cellular therapies with less toxicity than standard transplants.  The program is certified by FACT as well as the National Marrow Donor Program.
Useful Links from the Resource and Learning Center:
Staff of this Program:
Roger Strair, MD, PhD, Chief, Hematologic Malignancies and Blood and Marrow Transplantation
Dennis Cooper, MD, Co-Director, Blood and Marrow Transplant Program
Joseph Aisner, MD, Medical Oncologist 
Kevin David, MD, Medical Oncologist
Mecide Gharibo, MD, Medical Oncologist 
John Harpel, MD, PhD, Medical Oncologist
Jonathan Harrision, MD, Medical Oncologist
Vimal Patel, MD, Medical Oncologsit
Dale Schaar, MD, Medical Oncologist
Tracy Krimmel, MSN, AOCN, APRN-BC, Advanced Practice Nurse
Kara Saggiomo, RN, APN-C, AOCNP, Advanced Practice Nurse
Ann Tyno, RN, MSN, APN, C, Advanced Practice Nurse
Jacqueline Manago, RN, BSN, OCN, Nurse Clinician, Bone Marrow Transplant Coordinator
Mary Kate McGrath, MSN, RN, APN-C, OCN, Bone Marrow Transplant Coordinator
Lauren Kriegel, MSW, LSW, Social Worker
Deborah Leif, MSW, LCSW, Social Worker
Rosemarie Slirzewski, MSW, LCSW, Social Worker