Unlocking the Mysteries of Breast Cancer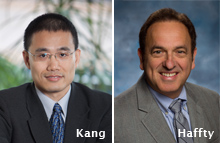 Investigators from The Cancer Institute of New Jersey, Princeton University, and the University of Buffalo, have discovered that a protein necessary for lactation blocks the growth and spread of breast tumors. The findings were recently published in the journal Nature Cell Biology (DOI: 10.1038/ncb2607).
We asked senior author Yibin Kang, PhD, a member of The Cancer Institute of New Jersey and Warner-Lambert/Parke-Davis professor of molecular biology at Princeton University, and collaborating author Bruce G. Haffty, MD, chief of radiation oncology at The Cancer Institute of New Jersey and chair of radiation oncology at RWJMS, to share their thoughts about the discovery and what it could mean for the management of a disease that affects one in eight women.
Q:  Tell us about this finding.
A:  [BGH & YK] An understanding of how molecular pathways promote tumor growth and progression is critical to progress in the cure of breast cancer. In this study, we found that Elf5, a protein that is crucial for expansion of breast tissue and milk production during lactation, also functions as a tumor suppressor to reduce the risk of metastasis, the spread of cancer from the breast to other organs. When present, Elf5 suppresses breast cancer development and in its absence, breast cancer development and progression are promoted.
Q:  What is unique about this discovery?
A:  [YK] It is the first time that a tumor suppressive function is discovered for Elf5, which is well known as a developmentally important gene during pregnancy and lactation.  The study revealed the common connection of the genetic regulatory network that functions in both development and cancer.
[BGH] This finding suggests that the loss of Elf5, which is common in early stages of breast cancer, may play a key role in the transition of normal breast tissue into cancer cells. Ultimately this may lead to interventions that can prevent breast cancer or treat early stages of breast cancer before they progress and metastasize.
Q:  What are the implications for treatment and management of breast cancer?
A:   [YK] Through this study, we now know that Elf5 is a tumor suppressor and is often lost in early stage breast cancer.  In particular, among estrogen-negative breast cancers, low level of Elf5 is a significant predictor of higher risk of recurrence and metastasis.  In addition to using Elf5 as a prognostic marker to identify high risk patients, we are also trying to understand how Elf5 is lost in breast cancer, which may lead to methods to restore their expression as a way to suppress the development and progression of breast cancer.
[BGH]  These are preliminary findings which have not yet translated into clinical practice. However ultimately, if we are able to manipulate this pathway with drug therapy, we may be able to prevent breast cancer and improve outcomes in those patients who develop breast cancer.
The research was supported by the National Institutes of Health (R01GM069417, R01CA134519, and R01CA141062), Department of Defense (W81XWH-11-1-0681), the Breast Cancer Research Foundation, the Brewster Foundation, and the Champalimaud Foundation.