Rutgers Cancer Institute of New Jersey Leader Named to National Panel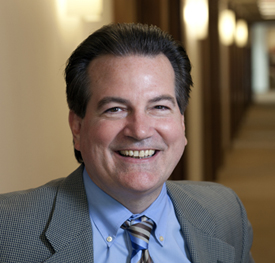 New Brunswick, N.J. – David J. Foran, PhD, chief informatics officer and executive director of biomedical informatics and computational imaging at Rutgers Cancer Institute of New Jersey has been appointed as a Charter Member for Study Section for the National Institute of Biomedical Imaging and Bioengineering.  Members are selected on the basis of their demonstrated competence and achievement in their scientific discipline as evidenced by the quality of research accomplishments, publications in scientific journals, and other significant scientific activities, achievements and honors.  In this role, Dr. Foran is responsible for providing expert review as to the scientific merit and clinical relevance of grant applications that are submitted to the National Institutes of Health (NIH) for funding consideration and making recommendations on these applications to the appropriate NIH national advisory council or board.
Foran's laboratory is involved in the development of high-throughput, imaging, data-mining and computational tools for classifying malignancies and stratifying biomarker expression signatures from disease onset throughout progression. He has served as the lead investigator for several large-scale inter-institutional research projects in bioinformatics, computational imaging, high-performance computing and integrative diagnostics.
The Long Valley resident also serves as the director of the Center for Biomedical Imaging and co-director of the Histopathology and Imaging Shared Resource at the Cancer Institute and is a professor of pathology, laboratory medicine and radiology at Rutgers Robert Wood Johnson Medical School.
About Rutgers Cancer Institute of New Jersey
Rutgers Cancer Institute of New Jersey (www.cinj.org) is the state's first and only National Cancer Institute-designated Comprehensive Cancer Center. As part of Rutgers, The State University of New Jersey, the Cancer Institute of New Jersey is dedicated to improving the detection, treatment and care of patients with cancer, and to serving as an education resource for cancer prevention. Physician-scientists at the Cancer Institute engage in translational research, transforming their laboratory discoveries into clinical practice, quite literally bringing research to life.  To make a tax-deductible gift to support the Cancer Institute of New Jersey, call 732-235-8614 or visit www.cinj.org/giving. Follow us on Facebook at www.facebook.com/TheCINJ.
The Cancer Institute of New Jersey Network is comprised of hospitals throughout the state and provides the highest quality cancer care and rapid dissemination of important discoveries into the community. Flagship Hospital: Robert Wood Johnson University Hospital. System Partner: Meridian Health (Jersey Shore University Medical Center, Ocean Medical Center, Riverview Medical Center, Southern Ocean Medical Center, and Bayshore Community Hospital). Major Clinical Research Affiliate Hospitals: Carol G. Simon Cancer Center at Morristown Medical Center, Carol G. Simon Cancer Center at Overlook Medical Center, and Cooper University Hospital. Affiliate Hospitals: JFK Medical Center, Robert Wood Johnson University Hospital Hamilton (CINJ Hamilton), Shore Medical Center, Somerset Medical Center, The University Hospital and University Medical Center of Princeton at Plainsboro.