Breaking Down Barriers
One of the biggest problems with treating cancer is drug resistance.  Not all patients respond favorably to anti-cancer drugs, and those who do may develop a resistance to them.  One might ask why…and what can be done about it? In a laboratory on the fourth floor at The Cancer Institute of New Jersey, those are queries that investigators led by CINJ researcher and UMDNJ Vice President for Research and Interim Dean of the Graduate School of Biomedical Sciences, Kathleen Scotto, PhD, tackle every day.
Dr. Scotto's team looks at drug transporters, which are genes that impact whether a drug can penetrate a cancer cell.  One of these transporters is coded for by the Multiple Drug Resistance (MDR) gene, which doesn't discriminate, as it causes resistance against numerous drugs.  Scotto has studied this particular gene for 25 years, having been a student in the laboratory that actually cloned it in 1986.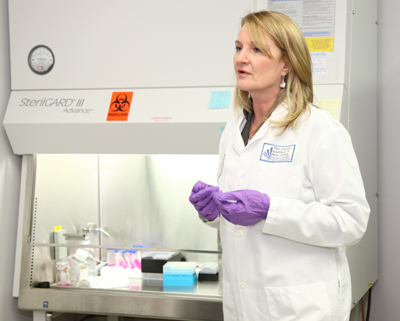 MDR encodes a protein (P-glycoprotein) within the surrounding perimeter of a tumor cell, giving it direction as to whether it should turn away or allow any drug that is seeking entry.  Sometimes the drug is successful in breaking this barrier, but too much of this protein results in the drug not reaching its target.   In studying the inner workings of MDR, researchers know that there is a way to turn this gene on and off, much like a light switch.  If MDR can be kept "off," then it would prevent the "halt" message from being sent. This disruption would allow for medicine to enter the cell and attack the cancer.
Investigators in the Scotto lab are focusing on the DNA packaging within a cell called chromatin.  What they have learned is chromatin is more than just packaging; it is the gatekeeper deciding how much of the troublesome P-glycoprotein is produced.  Scotto's group is looking at the relationship between chromatin and MDR to see if messages that prompt the creation of a drug barrier in cancer cells can be changed.
The Breast Cancer Resistant Protein (BCRP) gene is another drug transporter associated with the overproduction of a protein that causes drug resistance.  Laboratory studies by Scotto's group found that caffeine (one of many chemical compounds in the methylxanthine family that produce similar stimulating effects) can decrease the amount of protein produced, thus allowing for drugs to penetrate the cancer cell.  While initially discovered in breast tissue, BCRP has implications in a variety of tumor types.  Scotto says she is confident that future study in this area will allow for clinical testing of cancer drugs in relation to combination therapy. 
Scotto, whose laboratory receives coveted funding from the National Institutes of Health, is a professor of pharmacology at UMDNJ-Robert Wood Johnson Medical School and has been with CINJ for seven years.  She credits team involvement for the advances made in her laboratory with special acknowledgement to Dr. Jia Shi, Dr. Hairong Hui, Kirk Pabon, Rui Ding, Allie Wierzbowski and Michael Messina.