Biospecimen Repository Service
Home | Services | Equipment | Service Request Form | Policies & Procedures
Director: Lorna Rodriguez, MD, PhD
Co-Director: Marina A. Chekmareva, MD
Manager: Julia Friedman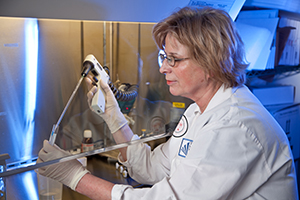 The Biospecimen Repository Service (BRS) supports basic, translational, clinical, and population-based research through the procurement and distribution of human biospecimens. The BRS coordinates activities to assure efficient movement of human biospecimens through the acquisition-processing-analysis-distribution pathway for protocol driven and de-identified tissue specimens. All biospecimen collection, accession, and storage at the Cancer Institute of New Jersey is done by the BRS Shared Resource.
The specific objectives of this shared resource are:
To identify, procure, process, annotate, bank and distribute high-quality human biospecimens in the requested quantities and state of preservation for use by center members with IRB approved clinical, translational, and basic protocols
To provide clinical, pathological and histological annotations for biospecimens while maintaining strict patient confidentiality via the implementation of an "Honest Broker" system
To implement and maintain a caBIG-compliant data warehouse (OnCore®) to facilitate storage of clinical information
To provide consultation to investigators in the design of research protocols that require tissue procurement for scientific purposes and to optimize the collection of primary and correlative data from clinical and laboratory studies
To facilitate investigator compliance with and navigation through regulatory processes (SRB, IRB, HIPAA) to promote performance of high quality, safe, and ethical research
ACKNOWLEDGEMENT OF SHARED RESOURCES
The shared resources of the Rutgers Cancer Institute of New Jersey are specialized service facilities that support the cancer research efforts of our members.
The shared resources are supported primarily by the Cancer Center Support Grant (CCSG) from the National Cancer Institute.  Additional support may be provided from other sources, such as chargeback systems, institutional funding and/or other grants. The support from the CCSG allows the core facilities to provide benefits to Cancer Center members, such as ensured access to services or subsidies to user rates.
Please remember to acknowledge the valuable services provided by Cancer Institute of New Jersey Shared Resources in your research papers, publications and grant applications:
"This research was supported by the [insert name(s)] Shared Resource(s) of the Rutgers Cancer Institute of New Jersey (P30CA072720)."
(Note: please also consider including the names of individuals from the shared resources if they provided any intellectual input or additional effort.)