Nationally-Recognized Population Science Researcher Tapped for Leadership Post at Rutgers Cancer Institute of New Jersey
Dr. Sharon Manne named to Associate Director Position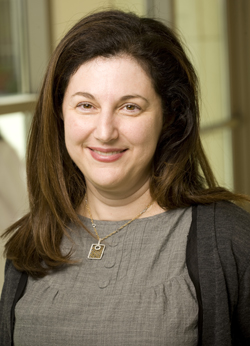 New Brunswick, N.J. – Sharon Manne, PhD, has been elevated to the position of Associate Director for Cancer Prevention, Control and Population Science at Rutgers Cancer Institute of New Jersey.  A professor of medicine, Dr. Manne also serves as chief of the Section of Population Studies at Rutgers Robert Wood Johnson Medical School.
A nationally-recognized researcher with a behavioral science focus, Manne is a recipient of several major grant awards from the National Institutes of Health.  Her work aims to further understand the impact of cancer on patients and their families and their psychosocial needs. In particular, the Manhattan resident has extensive experience in developing and evaluating couple-based psychological interventions in the area of oncology that promote adaptive communication and supportive behavior.
She also has a particular focus in improving the acceptance of cancer screening practices among cancer patients and their families.  Her experience has led to the development of effective print materials that are specially tailored for family members at risk for cancer.
"Dr. Manne's expertise in exploring the psychosocial aspects of cancer provides a unique and comprehensive view in how to treat the 'whole' patient and not just the disease itself," noted Cancer Institute of New Jersey Director Robert S. DiPaola. "I have every confidence that our cancer prevention, control and population science initiatives will continue to grow under Dr. Manne's leadership."
About Rutgers Cancer Institute of New Jersey
Rutgers Cancer Institute of New Jersey (www.cinj.org) is the state's first and only National Cancer Institute-designated Comprehensive Cancer Center. As part of Rutgers, The State University of New Jersey, the Cancer Institute of New Jersey is dedicated to improving the detection, treatment and care of patients with cancer, and to serving as an education resource for cancer prevention. Physician-scientists at the Cancer Institute engage in translational research, transforming their laboratory discoveries into clinical practice, quite literally bringing research to life.  To make a tax-deductible gift to support the Cancer Institute of New Jersey, call 732-235-8614 or visit www.cinj.org/giving. Follow us on Facebook at www.facebook.com/TheCINJ.
The Cancer Institute of New Jersey Network is comprised of hospitals throughout the state and provides the highest quality cancer care and rapid dissemination of important discoveries into the community. Flagship Hospital: Robert Wood Johnson University Hospital. System Partner: Meridian Health (Jersey Shore University Medical Center, Ocean Medical Center, Riverview Medical Center, Southern Ocean Medical Center, and Bayshore Community Hospital). Major Clinical Research Affiliate Hospitals: Carol G. Simon Cancer Center at Morristown Medical Center, Carol G. Simon Cancer Center at Overlook Medical Center, and Cooper University Hospital. Affiliate Hospitals: CentraState Healthcare System, JFK Medical Center, Robert Wood Johnson University Hospital Hamilton (CINJ Hamilton), Shore Medical Center, Somerset Medical Center, The University Hospital/Rutgers New Jersey Medical School*, and University Medical Center of Princeton at Plainsboro. *Academic Affiliate